---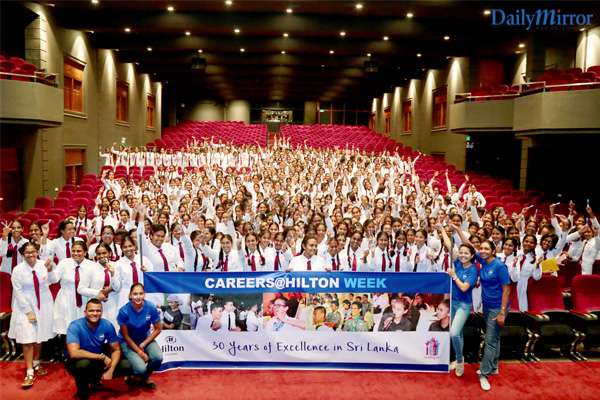 Hilton Colombo has taken part in Careers@Hilton Week, Hilton's annual global career event showcasing the many opportunities available in the hospitality industry for young job seekers. During the week of May 14, Hilton hotels and corporate offices around the globe hosted hundreds of events to inform young people about the exciting and diverse career opportunities in the hospitality industry.
This initiative is a part of Hilton's Open Doors commitment, which aims to positively impact at least one million young people by 2019 by connecting them to opportunities in the hospitality industry, preparing them to reach their full potential or directly employing them. Hilton is on track to reach this target, with nearly 800,000 young people impacted through global partnerships, talent pipeline and local activations to date.
During the week of May 14, the Hilton Colombo visited 15 Schools, reaching out to 3700 youth in the districts of Colombo and Gampaha, connecting and creating awareness about the hospitality industry.
Manesh Fernando, General Manager said "Our aim is to create awareness about the hospitality industry amongst the youth of our country and encourage them to pursue a career in this field once they leave school. I am extremely happy that we were able to meet and interact with 3700 plus students during the past week and we will continue with this program in the weeks ahead".

Achala Soyza, Director Human Resources added, "After successfully conducting the Youth Forum for four consecutive years in the past, bringing in approx. 350 youth each year to the hotel, 'Reaching out' was our approach for Careers@hilton 2018. In commemoration of 30 years of excellence in hospitality in Sri Lanka, Hilton Colombo is committed to reach out to a minimum of 3000 youth during this program, contributing towards the Hilton's 'Open Doors Commitment' to impact 1 million youth by 2019. Youth is the future of our industry and therefore we are committed and passionate to reach out, connect and prepare the next generation to follow this exciting industry".
Careers@Hilton Week events are a unique opportunity for Hilton to inspire job seekers about careers in the hospitality industry, and to support them by providing guidance on the skills that are vital to succeed in the workplace and beyond. Participants join Hilton for events ranging from résumé clinics to networking, as well as presentations from current employees about their career paths in hospitality.
For more information about Hilton's Youth commitments, please visit http://newsroom.hilton.com/index.cfm/misc/youth For information on job opportunities with Hilton, visit http://jobs.hiltonworldwide.com/.