---
Dialog Axiata PLC ("Dialog"), Sri Lanka's premier connectivity provider, announced the commissioning of the Maldives Sri Lanka Cable system (MSC), enabling the delivery of high-speed broadband services. Dialog's investment in the new high-speed submarine cable will trigger the single largest infusion of International Bandwidth between Sri Lanka and Maldives to date.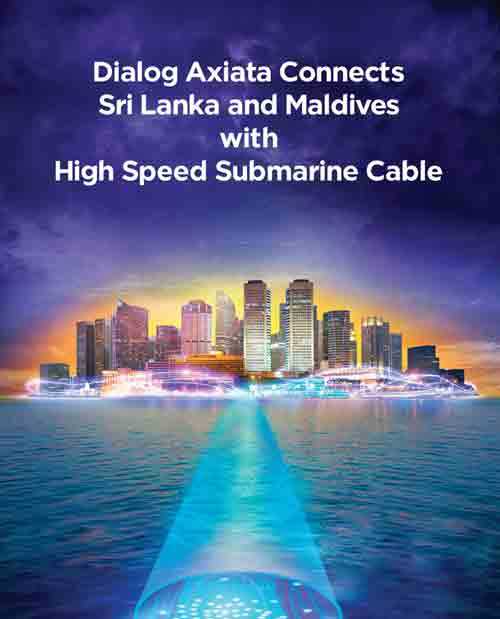 The 840km long international submarine fiber optic cable system provides high-speed, low latency connectivity between Hulhumale in the Republic of Maldives and Mount Lavinia in Sri Lanka. The collaborative efforts of Dialog together with its international consortium partners Ooredoo and Dhiraagu of Maldives together with the supplier HMN were critical in achieving the rapid system design and implementation during this period of challenging logistics and restrictions associated with the COVID-19 pandemic.
The MSC system is the second investment of its kind by Dialog, which follows its investment in the BBG cable (Bay of Bengal Gateway), offering high speed connectivity along with low latency between the Middle East, the Indian sub-continent and South-East Asia, and was one of the first fiber cable systems to be lit at 100G, linking Sri Lanka and the region. This project was conducted under the aegis of Telecommunications Regulatory Commission of Sri Lanka (TRCSL), Ministry of Defense (MOD), Sri Lanka Navy, Coast Conservation and Coastal Resource Management Department (CC&CRMD), Department of Fisheries and Aquatic Resource Development, Board of Investment of Sri Lanka (BOI), Sri Lanka Customs, Sri Lanka Port Authority (SLPA) and other relevant regulatory authorities.
Commenting on the occasion, Supun Weerasinghe, Group Chief Executive of Dialog Axiata PLC said, "We are pleased to have completed this project with our international consortium partners Ooredoo and Dhiraagu together with HMN in record time amidst the challenges of the pandemic. We are honoured and proud to witness the enhanced telecommunication infrastructure of Sri Lanka acting as a regional gateway in international communications. Our gratitude goes to all the regulatory authorities for supporting the successful completion of this project, in our shared vision of establishing Sri Lanka as a trusted regional hub."
"We are very pleased with HMN Tech's performance to ensure timely delivery of the project. The MSC system will facilitate the growing demand for internet in the Maldives, while increasing our submarine cable network reliability by providing route diversity. The system also caters for additional capacity required to enhance the digital ecosystem and provide modern digital services," stated Mr. Ismail Rasheed, CEO and Managing Director of Dhiraagu.
"Our close partnership and cooperation between all MSC consortium members and HMN Tech has achieved a timely system completion," said Najib Khan, Managing Director & CEO of Ooredoo Maldives PLC. "The system further enhances our submarine network infrastructure to support the increasing communication needs of customers and power key digital innovations in the 5G era. This benefits all regional enterprises and consumers."
"We are honoured to be supported by our customers to deliver this important regional network. Our innovative products and network solutions continues to provide commercial value to our customers," stated Ma Yanfeng, VP Sales & Marketing. "HMN Tech is committed to supporting worldwide digital transformation through leading technologies and effective system engineering and deployment."