---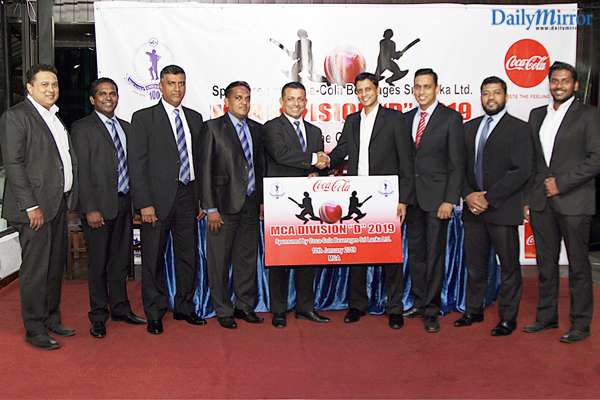 (L to R) : Alistair Senn - Key Account Manager, Coca-Cola, Sanjaya Wijesinghe – Committee Member – MCA; Rohana Dissanayake – Vice President, MCA; Mahesh De Alwis – General Secretary, MCA; Roshan Iddamalgoda – President, MCA; Mario Perera – Country Marketing Manager, Coca-Cola ; Malinda Siriwardena – Trade Marketing Manager, Coca-Cola; HarthonoSinhawansa – Head of Key Accounts, Coca-Cola and Modern Trade, ShazniIrshan – Assistant Manager Channel Development, Coca-Cola
Coca-Cola recently stepped forward as the official sponsor for the Mercantile Cricket Academy (MCA)'s annual 'D' Division 40-Over League Tournament. The sponsorship was officially initiated at the MCA premises. Conducted over the course of nine weeks, from 16th December 2018 to 23rd February 2019, the tournament comprises a total of 13 teams playing 43 matches to qualify for a spot in the finals. The matches are played at several locations, including the MCA Grounds, Thurstan Grounds, Mattegoda Army Grounds, Bandaranayaka Grounds Veyangoda, St. Benedict's Grounds as well as St. Joseph's Grounds Maradana. The final match is scheduled to be conducted at the MCA Grounds.
Commenting on the sponsorship, Mario Perera - County Marketing Manager, Coca-Cola Sri Lanka Private Limited stated, "We are proud to be the official sponsor for this year's 'D' Division 40-Over League Tournament, an annual corporate cricketing event which is organized by the MCA. Coca-Cola has always been a strong advocate of many popular sports across the globe and as cricket is the pulse and one of the best-loved sports in Sri Lanka, we at Coca-Cola strive to play an active role in supporting and promoting its development. Over the past years, we have also been an active participant of MCA's 'G' Division 25-Over League Tournament and we are very pleased to now be able to contribute in the capacity of a sponsor for this division as well. We have seen some outstanding talent and sportsmanship in the 'D' Division so far and we look forward to seeing how the rest of the tournament will roll out and which team will emerge as the champions."
Coca-Cola has supported sporting events across the nation including the development of grassroots cricketing talent in Sri Lanka through the Coca-Cola Cricket Pathways Programme, which was hosted annually to provide young cricketers with a platform to hone and showcase their cricketing skills. Through sponsorships of this nature, the company was able to contribute towards nurturing young talent, grooming the next generation of sporting superstars and ensuring the continued development of the sport of cricket. Coca-Cola is also currently the official carbonated beverage partner of Sri Lanka Cricket.