---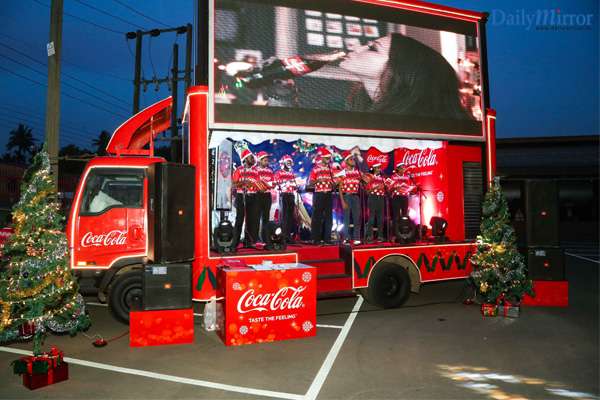 From as far back as the 1930s, Coca-Cola has continued its legacy of bringing families and friends together to share moments of happiness and refreshment during Christmas and New Year's. In keeping with its iconic holiday tradition which brings the joy of the festive season to consumers across Sri Lanka, Coca-Cola Sri Lanka Private Ltd. recently launched its annual Christmas roadshow. Featuring a Coca-Cola truck of choristers and a host of exciting games and giveaways, this year's Christmas roadshow will be running from December 14 – 25 2018.
Spreading the holiday cheer from factory to town, the roadshow kicked off from the Coca-Cola bottling plant in Biyagama and is rolling-out across various locations from Colombo to Negombo. With an enlivening choir delivering a non-stop line-up of Christmas carols to keep the festive spirits flying high, the brightly-lit Coca-Cola truck will travel to nearly twenty locations including supermarkets, Arpico Hyde Park &Thalawathugoda, Cargills Rajagiriya, Ja-ela, Katubedda & Negombo, Super K Negombo, Laugfs Negombo, Spar Thalawathugoda and selected Sathosa and Perera and Sons outlets. An array of interactive games and programmes will also be conducted at Scope Cinemas - Colombo City Center,Savoy Wellawatte and at the Majestic City. To further spread the magic of the season, the Christmas truck will also reward loyal Coca-Cola fans with a range of exciting gifts and surprises along the course of its journey.
Gearing up for the iconic annual holiday tradition, Mario Perera – Country Marketing Manager, Sri Lanka and Maldives stated, "We are excited to launch yet another Christmas roadshow, which we hope will encapsulate the magic of the season, by bringing families and friends together to create and share joyous moments and experiences. Spreading cheer, happiness and the spirit of togetherness has always been at the heart of the Coca-Cola brand and we look forward to doing just that through this grand holiday activation. With our cheerful carolers and musicians brightening up the streets, we hope that this much-loved annual event will be a delightful and memorable occasion for Sri Lankans of all ages and walks of life."
Coca-Cola has always created heart-warming and striking adverts, campaigns and activations that have helped brighten up the holiday season across the globe. The modern-day image of Santa Claus can also be attributed to Coca-Cola, as it was the brand that commissioned illustrator Haddon Sundblom to first develop advertising depictions and imagery of Santa as a jolly, friendly and plump bearded man in a red suit. This image of Santa has now become an integral part of popular culture and is synonymous with the holiday season in all corners of the world.