---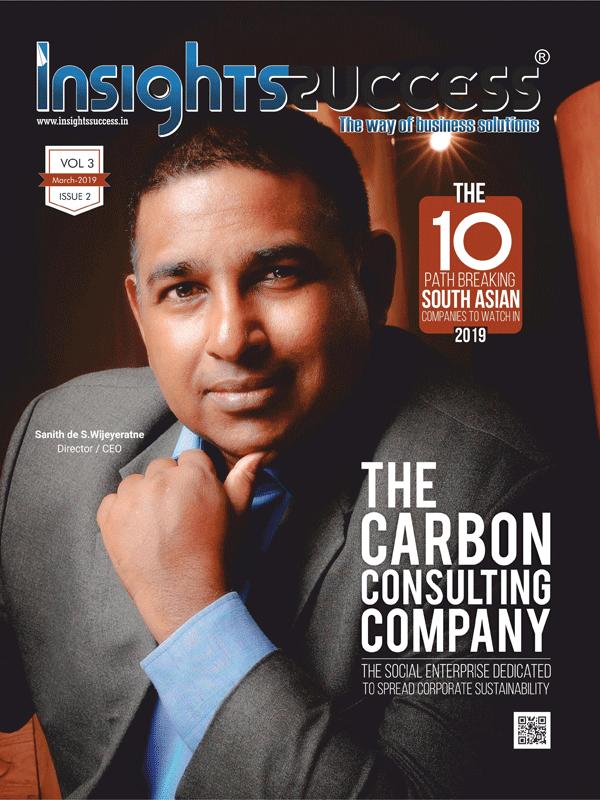 CCC Director/CEO Sanith de Silva Wijeyeratne graces the cover of Insights Success Magazine
The Carbon Consulting Company (CCC) has been nominated for the top spot on the list of the Top 10 Ground Breaking Companies in Southeast Asia for 2019 by Insights Success Magazine based in India.
With more than eight years' experience, CCC has worked with over 100 clients across Southeast Asia and is responsible for the reduction of over 100 million kilos of CO2e from the atmosphere as well as saving over 20 million litres of water, and planting over 20,000 trees in managed agro-forestry projects.
CCC is the regional partner for Natural Capital Partners - the world's leading provider of carbon offset solutions, and creators of the CarbonNeutral certification.
Pioneering the certification of carbon neutrality in Sri Lanka, India and the Maldives, CCC has over the past eight years expanded its operations to several other countries in the South Asia and the Middle East. The nomination by the Insights Success Magazine, recognises CCC's innovative approach toward tackling corporate action on climate change.
With a focus on building long term ethical partnerships with clients, and the innovative use of branding and marketing communication tools to bolster client's sustainability efforts - CCC's approach has created many globally and regionally significant sustainability 'firsts' for their clients.
The company has continually upheld its principles of adhering to global standards, complete transparency and independent assurance of all of its consulting work, despite considerable pressure to adopt a more lax approach.
Commenting on the recognition, CCC CEO Sanith de S. Wijeyeratne said: "I'm humbled and honoured that our team has been recognised with the prestigious international accolade. It is a result of the concerted efforts of a talented and multi-disciplinary group of people who have come together out of a shared passion for the conservation of the environment and the combating of climate change. We are also in no small way, inspired and guided by the founding directors of the company without whose passion and commitment we would not be here right now. As we look toward the future, we are encouraged by the new partnerships forged and our continued work to develop meaningful sustainability action plans for our clients to reach their environmental aspirations."
The Carbon Consulting Company has been an avid change-maker in the region pushing the boundaries of what environmental sustainability can do to empower local businesses and communities. The company's work primarily focuses on sustainability assessments such as Carbon Foot-printing and Offsetting, Water Foot-printing and Offsetting, Water Auditing, Energy Auditing, Waste Auditing, Life Cycle Analysis, and Biodiversity Assessments.
The company also provides management and technical consultancy and advisory services on integrated corporate sustainability strategy and change management, supply chain sustainability stakeholder engagement, GRI/Integrated reporting, carbon offset development projects (VCS/CDM), and international renewable energy certificates (IRECs). All of the company's sustainability assessments follow international standards, protocols, methodologies and guidelines.