---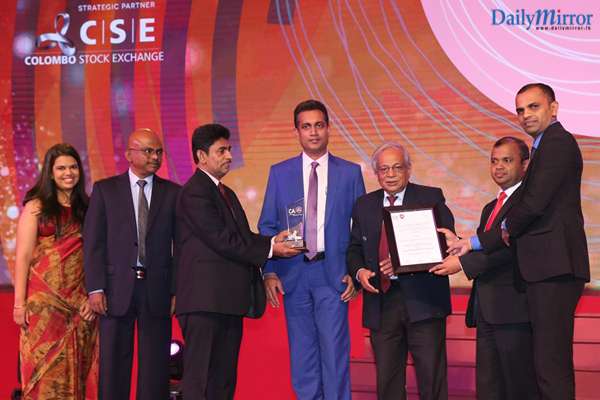 Berendina Chairman Anura H. Athapaththuge (third from left) receiving the award. Also seen here are Jagath C. Godakanda- Director, Priyankara C. Nirmal- Head of Finance, and NimayaPeiris- Manager Fundraising and Communications
Berendina Development Services Gte (BDS) and its micro-financing arm Berendina Micro Investments Co (BMIC) was awarded a Silver and Merit award respectively at the recent 54th Annual Report Awards organized by the Institute of Chartered Accountants of Sri Lanka (CA).
Held on 04th December at Shangri-La Hotel, Colombo with around 130 companies in the country competing across 22 categories, BDS for its first time clinched a Silver award under the 'Not-for-profit Organizations' including 'Non-Governmental Organizations' category.
BMIC, re-launched as a public limited company to obtain CBSL's micro-financing license, is no stranger to the competition having won a prestigious Gold award last year for the same category. And this year it was recognized with a Merit Award for Compliance in the 'Finance Companies, Leasing Companies & Other Financial Institutions' (total assets up to LKR 20bn) category for the first time.
With a vision of creating an empowered equitable society where poverty does not exist, Berendina focuses on addressing challenges faced by poverty-stricken communities in both rural and plantation areas.
Its diverse array of projects provides economic empowerment to marginalized men and women including elders, widows and persons with disabilities. With a presence across 11 districts with 32 branch offices, Berendina supports over 150,000 poor families to uplift their social and economic condition.
BDS provides access to clean water, health services, and undertakes housing and social infrastructure development projects, strengthening civil society organizations at grass roots level to carry out lobbying and advocacy initiatives for rural and plantation communities.
BMIC is a poverty-focused Microfinance Institute (MFI) with micro-credit and enterprise development services that ensure long term sustainability and growth of business ventures of clients, providing loans at lowest interest rate within the NGO and private sector MFIs in Sri Lanka.
Berendina has a third organization Berendina Employment Centre (BEC) which targets youth wherebright yet underprivileged students sitting for A/L examinations are provided educational support. These youth, including those who are O/L qualified are also provided employment opportunities through career guidance, vocational and professional training, and are then linked to private sector companies for prospective employment.