---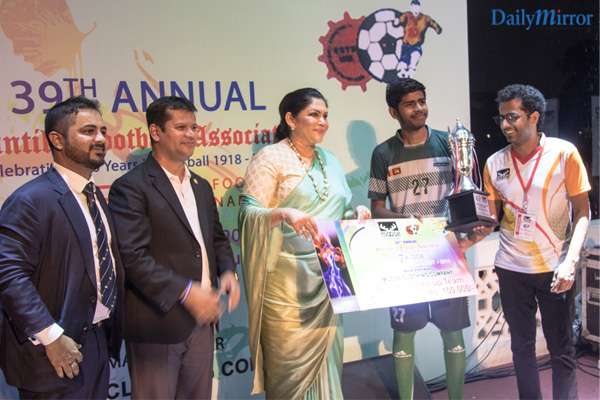 Having emerged champions at the Mercantile B-Division Knockout Tournament held in July, Amãna Bank Football Team continued its good form when it emerged runners up at the recently concluded "39th Annual Mercantile 7-a-side Tournament 2018" which was held at the Colombo Racecourse. The Bank held an unbeaten run during the league stage qualifiers having beaten Standard Charted Bank 4-1 and Commercial Leasing 3-0 which secured them a spot to the Quarter Finals to then beat Ceylinco Insurance 2-0.
Amãna Bank having performed well throughout the tournament entertained its spectators with sleek footwork and fast paced football. The Bank then qualified to the Semi Finals in the Cup Category to play John Keells Holdings which ended in a thrilling penalty shoot-out. At the end of the allotted time, both teams were tied at 1 all, leading to the penalty shoot-out, which Amãna Bank came on top 3-2 against the much fancied outfit. However at the Finals against a star studded Expo Lanka Team, Amãna Bank came short, ending its unbeaten streak after valiant effort, losing the match 4-0.
Amãna Bank Football Team consists of M H M Sajid (Captain), S M Shihan, A I M Infas, M F M Fuzail, Musthaq Ramzi, M H M Shamil, Usama Sideek, Ammar Sinnen, Nawaru Najah, M S M Irshad, A H H M Inshaf, Rahique Liyafdeen, Roshan Ijiyas, Shakir Rahuman, Nishath Nawaz, Limzan Fareed and Irshad Farook (Team Coach).