---
Our Muslim Diyawanna politicos eagerly looked forward to meeting the Pakistan political chief who recently paid a brief visit to our country. Some of those Muslim politicos had been invited to the official functions held in connection with the visit of the distinguished foreign visitor.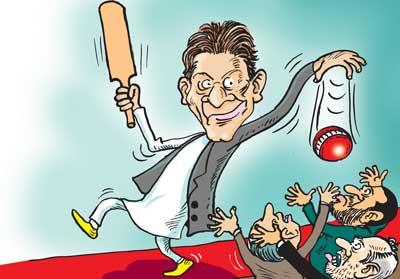 However, a few of those politicos had not been invited to the official functions. Some of them who happened to be party leaders had felt affronted and had asked the Pakistan envoy in Colombo to arrange an opportunity for them to meet the visiting political chief. And the Pakistan chief had agreed to meet these Muslim leaders briefly.

The Muslim leaders who were happy that they got an opportunity to meet the visiting Pakistan political chief had got ready to brief the latter on the grievances of the community that the government had failed to look into. Later when the talks between the Pakistan political chief and the Muslim leaders were about to begin, the former had beckoned an aide and passed a message to him. The aide had left the place with the message and soon after, the top team member who played the role of Minister in Attendance to the distinguished visitor had walked in and taken a seat at the conference.

On seeing the new comer, the Muslim leaders who were set to launch a tirade on the regime had got into a flutter.

When the talks began, it was cricket that had figured as the subject of discussion at the outset and it had not taken long to conclude the talks and as the Muslim leaders were about to leave, the Pakistan political chief had made it a point to offer them a piece of advice: " Work in co-operation with the government to win your rights… That's the best way…"