---
The government took action to upgrade a leading hospital in the upcountry. People in the area who were quite happy about it were eagerly looking forward to the ceremony marking the event.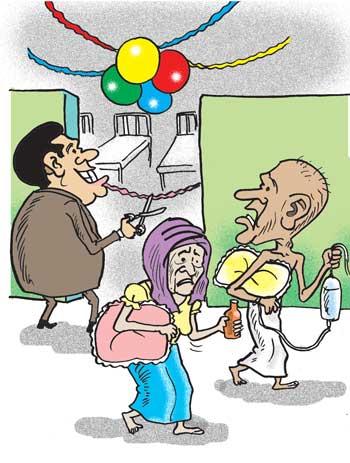 The authorities had decided to hold the inauguration of the upgraded hospital in a section of the hospital building complex where a special ward was housed. About 45 patients who were seriously ill were undergoing treatment in this ward.

However, the hospital authorities had to face the problem of shifting the patients elsewhere to make way for holding the ceremony in this section of the building. However, the political authorities had decided that the inauguration should be held ahead of the big poll somehow.

So, the authorities who could not defy orders from above transferred the seriously ill patients to other wards and discharged the rest to continue treatment at home.

Some patients had protested when told they were to be discharged, and the authorities had explained it was something beyond their control.

Finally, the upgraded hospital was inaugurated with much fanfare. However, when media personnel queried about discharging patients who required continued indoor treatment, the hospital authorities had declined to comment, they say.