---
A housewife from Anuradhapura while surfing the internet on her smartphone had learnt about an indigenous potion described as efficacious medication for the Coronavirus infection.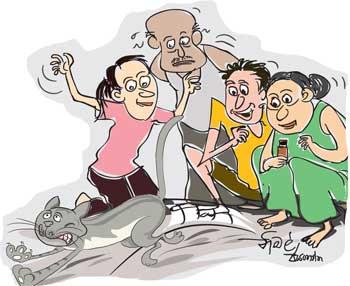 She also found the details about how to prepare the potion. She called at a Sinhala Beheth Kade and bought the ingredients necessary for preparing the potion such as coriander, nutmeg, bees' honey etc. and later prepared the potion according to the formula explained in the internet post.

When the potion was ready for use, the housewife invited her husband and children to take the potion.

"Aiyo! We can't drink it!" children said in a chorus.

"Taking too much of Sadikka (nutmeg) is not good for your health, they say. Besides, I am having high blood pressure!" was the husband's excuse for not drinking the potion.

"Then let us give it to our kitty. It seems to be suffering from a cold these days," said the housewife.
Everyone agreed to say it was a good idea.

"After all, Sinhala medicine is quite safe!" the housewife added.

While the son held the kitty's legs, a daughter forced open the animal's mouth. The mother poured two to three spoonfuls of the potion into the struggling kitty's mouth.

The kitty once released skipped away and soon disappeared.

It had not returned home after the Coronavirus treatment, they say.