---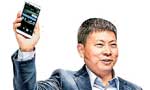 Huawei's large screen flagship smartphone, Mate7, was presented with t he "Smartphone Best New Arrival" award at the Eleventh Hurun Best of the Best Awards ceremony in Shanghai.


At the event, which sees awards presented to over 100 luxury brands, from car to watches, and fashion brands to jewelers, jet and yacht, l uxury properties, private banking, Huawei Mate7 was recognized for its increasing importance as Huawei's "most rapidgrowing, popular, and fast selling smartphone."

"Huawei Mate7 has been included in a growing number of high-end luxurious brand lists recently, most recently from Hurun, which is evidence that we have succeeded in creating a smartphone of premium quality that provides a great user experience. Our strategy of focusing on premium mid- to high-end products is clearly working for us," said Kevin Ho, President, Huawei Consumer Business Group Handset product line. "In addition to having sold an i mpressive more t han 2 million Mate7 units since its launch in September last year, we are thrilled to see the Mate7 receive so much global recognition."

The Hurun Research Institute also released its 2015 Best of the Best- Chinese Luxury Brand Trend and Chinese Millionaire Wealth Report. The reports look at various industries a n d provide an analysis of high-net worth individuals' purchasing behavior. The report has been deemed as the ISO 9000 for the higher class which is very authoritative, and shows that Huawei Mate7 has an Net Promoted Score (NPS) of 79 percent, 50 percent higher than that of the industry, which means that consumers who purchase the smartphone are very likely to recommend it to others.

Huawei Mate7 features a big 6-inch screen with FHD display for enhanced entertainment viewing, a slimmer 7.9mm body for increased comfort, a more powerful octa-core chipset for superior performance, and a longer-lasting 4100 mAh battery. It is also the first smartphone from Huawei to feature new single-touch fingerprint technology.

The smartphone has received significant industry recognition for its design and features since it was launched, both from international media and third parties. Thanks to its i nnovation and extraordinary user experience, Huawei Mate7 has also attracted endorsement from well-known public figures, such as football player, Cristiano Ronaldo.