---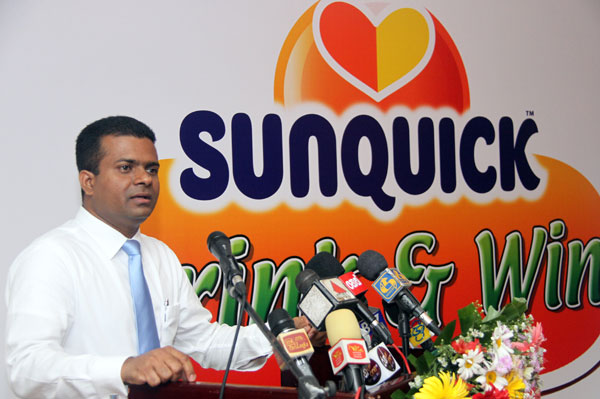 Mr.Mangala Perera- Executive Director- C.W.Mackie PLC- addressing the audience
Sunquick's 'Drink & Win' promotional campaign ended on a high note, with the final prize giving ceremony held on the 3rd of June 2016 at the Grand Oriental Hotel, York Street, Colombo 01, where 50 lucky customers walked away with brand new Sisil double-door refrigerators courtesy of Sunquick.
The promotion, which began on the 21st of January and ended on the 23rd of March had a double purpose; firstly, to celebrate the beginning of a new year and secondly, as a way of rewarding customers for their loyalty to the brand.
Thus far a total of 50 lucky customers have already received their prizes in the 1st and 2nd rounds of the promotion at prize-giving ceremonies held on the 8th of March and the 8th of April respectively.
All a customer had to do was post the plastic seal on the lid of the Sunquick bottle with the name, address and telephone number to PO box 161, Colombo.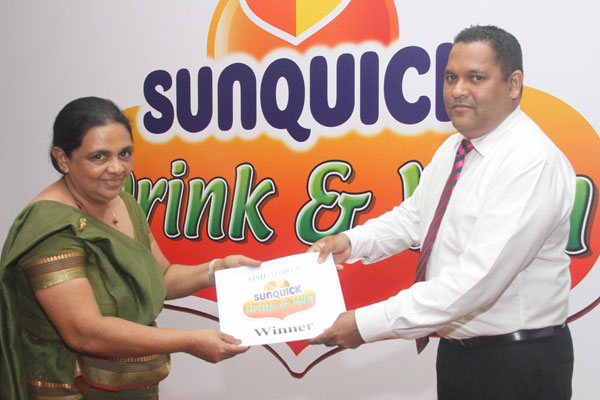 A Danish brand, Sunquick is consumed by millions in over 120 countries around the world. In Sri Lanka, the Scan Products division of C.W Mackie PLC serves as Sunquick's local distributor. As a family friendly drink, the brand provides the natural taste of fruits without the contamination of artificial flavors and coloring.
Scan Products' testing laboratories are equipped with the state-of-the-art testing equipment and staffed with skilled and experienced personnel. Every single bottle must meet the required internal quality standards and fully conform to international standards, before it leaves the plant to be enjoyed by consumers. At C.W Mackie the consumer is always given first and foremost consideration.