---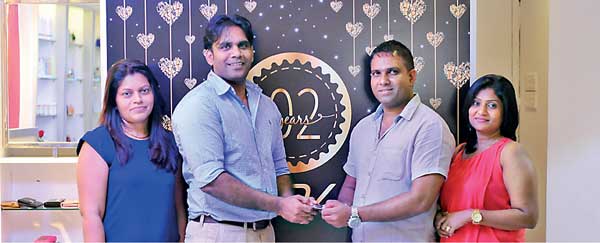 RV Fashion Managing Director Dinesh Fernando issuing the loyalty card to a customer in the presence of RV Fashion Director Dhesha Fernando (extreme left)
RV Fashion, the one-stop fashion mansion which has won the hearts of many since 2014, gave away loads of benefits for those who shop at their branches in Battaramulla coinciding with the second anniversary celebrations

The anniversary celebrations began with a charm ceremony at RV Fashion's biggest outlet at No. 125, Pannipitiya Road, Battaramulla recently, followed by the opening of a renovated ladies' ware section.
RV Fashion also rewarded its loyal customers with Gold and Silver cards for loyalty club members. The reward system was also unveiled on the same day at the Battaramulla branch.

The fashion lovers were in for a treat at RV Fashion outlets for two days as an attractive credit card promotion was on offer for Sampath Bank. A 10 percent discount was on offer for purchases of more than Rs.3500. Also, a 10 percent discount was offered for RV Fashion promotion leaflet. In addition, the cardholders will also get points every time they purchase products at RV Fashion.

RV Fashion, which expands its unmatched service to a wide sector of fashion-hungry people in the country, owns Sri Lanka's largest exclusive designer wear inventory, which increases daily, ranging from the latest fashions to the most modern accessories and everything in between.
Following a rapid expansion since the fashion chain was inaugurated exactly two years ago, RV Fashion's mission is to become the most exclusive high-end retail brand in Sri Lanka. Pleasing the hunger for fashion, RV Fashion offers the widest range of clothing for gents, ladies and kids. Everyone who visits RV Fashion will have the freedom to choose from the widest range of exclusive products, which include everything they need for any occasion with the most reasonable price tags.
This does not end here. All sorts of baby items, cosmetics, shoes, toys, bags and other accessories are also availablew at RV Fashion, making it the ultimate shopping paradise.

To notify people about the new arrivals, RV Fashion usually sends a newsletter email to its customers or publishes a notification in the home page where people can easily find the latest range of clothing and accessories.