---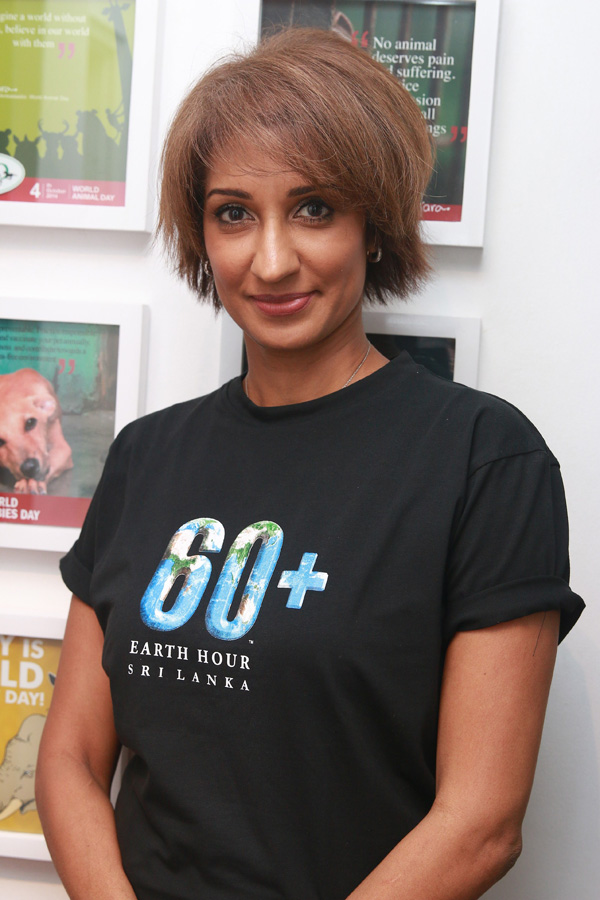 THIS EARTH HOUR, SHINE A LIGHT ON CLIMATE ACTION
Switch off your light and switch on your social power at earthhour.org
Otara Gunewardene, a renowned Sri Lankan entrepreneur and the Founder of ODEL and Embark, pledged her support for Earth Hour Sri Lanka, for the fourth consecutive year. Otara was nominated as a brand ambassador for Earth Hour in 2014 and since then, she has inspired thousands of Sri Lankans to join the Earth Hour initiative. Each year, Earth Hour engages hundreds of millions of people from all corners of the globe and inspires them to celebrate their commitment to protecting the planet, by switching off their lights for one designated hour. This year, Earth Hour is focusing on inspiring people to use their power, to change climate change.
Many local and global personalities have supported the initiative in different ways. From Sir Richard Branson to Miranda Kerr to Leona Lewis to Sachin Tendulkar to Amir Khan, celebrity ambassadors have always been a big part of Earth Hour's campaign to get people involved. Otarais supporting Earth Hour Sri Lanka once again alongside many global ambassadors from around the world. These ambassadors have come together in support of Earth Hour which is the largest environmental movement in the world and an iconic symbol of people's commitment to protecting the planet. As a supporter of Earth Hour, Otara Gunewardene calls upon all individuals, businesses and local communities to participate in Earth Hour's monumental "switch off" on Saturday, 25 March 2017 between 8:30 p.m. and 9:30 p.m. local time and to go beyond the symbolic switch off, with a commitment to protect the environement and natural resources in our daily lives!
Commenting on the importance of Earth Hour, Otara Gunewardene stated, "Last year was the hottest year on record and Earth's average temperature is increasing faster than ever before. We hear reports of extreme weather conditions from all over the world and we see our precious coral reefs and wildlife species disappearing day by day, right in front of our eyes. Global warming is no longer a concern of the future. It is happening right now, as we speak. It is altering our sea levels, the balance of our eco systems, as well as our weather patterns, all of which will have a serious impact on our daily life. It is time to take action. Let's make a pledge to protect our plants and trees and to do our bit to reduce, reuse and recycle. Let's go beyond the hour. Do not think for a minute that you alone cannot make a difference, it is the little things that we do together that will make a big impact."
Otara is focusing on spreading awareness about the importance of Earth Hour online and she is creating a call to action across all of her social media platforms. A series of posts will be made to educate individuals on the significance of Earth Hour and the importance of addressing global warming and climate change before it's too late. Additionally, Otara will deliver a video message which will highlight the current environmental issues that are being faced and she will stress how imperative it is to address them by protecting the planet.
When it comes to going beyond the hour, Otara and the Embark team have put a series of sustainable initiatives in place at their office. An outdoor meeting room and lunch room have been set up and these spaces require no electricity and use only natural sunlight. Bees, butterflies and birds pollinate more than a third of everything we eat and play a vital role in sustaining the planet's ecosystems, considering this an outdoor butterfly garden has been created to ensure the survival of various butterfly and insect species by providing them with a safe haven to gather, seek shelter and find food and water. The Embark work space design also maximizes the utilization of daylight and makes minimal use of light bulbs. Throughout the entire Embark office, paper is reused and recycled – all used paper is placed in collection boxes and is thereafter reused by different departments. The office computer settings have set to turn off when they are not in use and the brightness settings have been reduced across all the machines.
Commenting on Otara's support for the cause, Abdul QadirUvais - Country Manager, Earth Hour, Sri Lanka, stated, "Earth Hour is about the power of an interconnected global community that comes together to drive real action for the future of our planet. It's an honour to have Otara supporting the initiative once again and we look forward to working with her to inspire others to join the global Earth Hour community."
To support Earth Hour 2017 individuals, businesses and local communities are requested to help spread awareness about Climate Change through their social media platforms by visiting www.earthhour.org/climateactionto add their voice to the campiagn and also by switching off non essential lights between 8 :30 pm to 9 :30 pm on Saturday 25th of March. By signing up on the above website and participating in the global "switch off", Sri Lankans will be able to join millions of others from around the world to demonstrate their commitment to saving the planet. This mass action is not about saving electricity for an hour but is about bringing people together and giving them the opportunity to show their commitment to reducing their environmental footprint on the Earth.
Use your power and join the mission to protect this planet. For more information or to pledge your support visit www.earthhour.org and share your stories on www.facebook.com/EarthHourSriLanka.