---
The camera phone brand OPPO, strengthened the 'Group Selfie' trend today by launching another Selfie Expert F3, priced at LKR. 49,990.00. The F3 is the second in line dual front camera Selfie Expert targeted towards the Group Selfie generation after the recently launched F3 Plus.
The F3 features a dual front camera - a 16-megapixel Selfie camera for individual selfies and a wide-angle lens for group selfie.
The F3 First Sale begins from May 13th across Sri Lanka.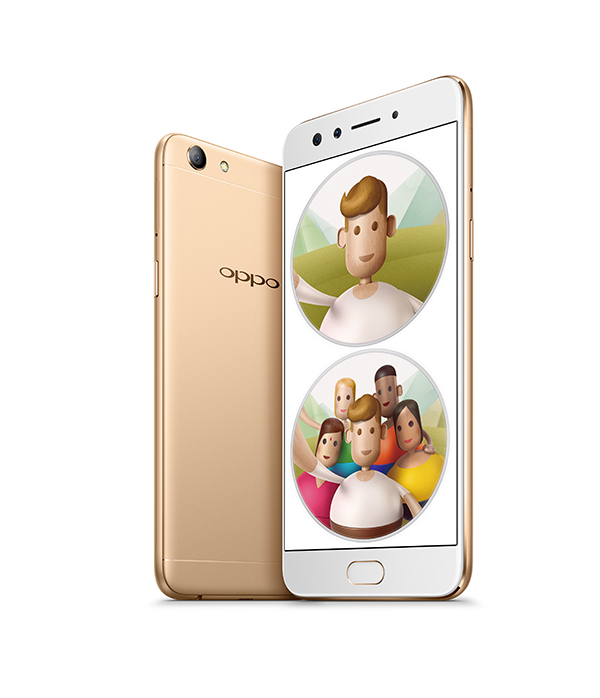 "Customers always have been the top most priority for us at OPPO and we have understood them right by the amazing response we get them in terms of customer-delight and satisfaction. The fact that our technologically innovative products and our customer insights have enabled them to capture and treasure every moment is shown by how Sri Lankans have embraced every model that has been launched and I am confident that OPPO F3 will further broaden the horizon for both OPPO and appeal to today's generation of Sri Lanka." said Mr Tom Zou, CEO, OPPO Sri Lanka.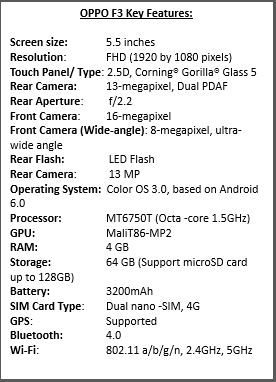 Dual selfie camera – "One for Selfie, One for Group selfie"
"One for Selfie, One for Group selfie "The Double View Group Selfie Camera gives a larger field-of-view, twice larger view than a normal selfie camera. The 6P lens maintains a high-level of professional image quality with minimal image distortion. This ensures that you click perfect Group Selfies!
For your individual selfies, switch to the other front camera which utilizes 16 MP resolution, 1/3-inch sensor and a large f/2.0 aperture. It sports high dynamic range, vivid depth and minimized noise. Comparing to previous F1s, OPPO made further improvements and optimization to its performance. Under a strongly-lit background, the selfie will not be over-exposed, and the overall image is more real. When shooting in a poorly-lit place or at night, the noise granularity is also significantly reduced to make the selfie more vivid and clearer.
With the built-in Smart Facial Recognition, the F3 will notify users to switch to 'Group Selfie' mode if there are more than three people in the frame. Users can snap their Group Selfie at ease, without compromising image stability when taking selfie with one hand.
The OPPO F3 is also equipped with a 13 MP rear camera that has a 1/3-inch sensor. It is able to maximize light sensitivity, making for wonderful nighttime performance. PDAF technology makes for a snappy and fluid shooting experience. Even with moving subjects, the F3 focuses without a hitch. Capturing great shots at key moments has never been easier.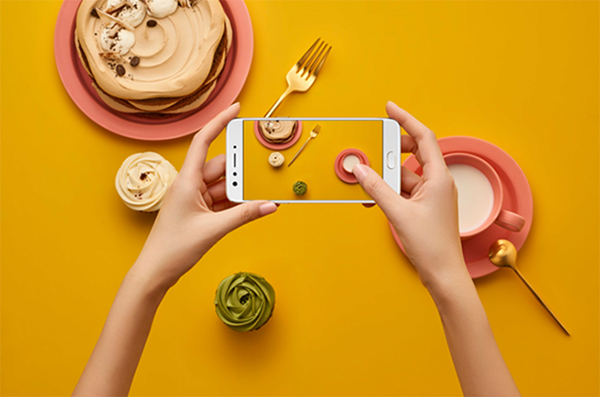 OPPO's pioneering beautification editing software, Beautify 4.0 is available for both - two selfie front cameras and rear camera. It will allow users to choose from various beautification modes, ensuring images are captured with favorable effects.
There are several other fun features to make your Selfie taking experience enhanced like Palm shutter allows you to take shake free photos by activating an automatic selfie countdown when you wave your hand in front of the camera.
Perfect for All the Functionality You NEED
The F3 is equipped with an octa-core processor, 4 GB RAM and 64 GB ROM backed by the ColorOS 3.0, assuring a seamless and snappy performance. The embedded triple-slot card tray allows two nano-SIM cards and a microSD card to work simultaneously.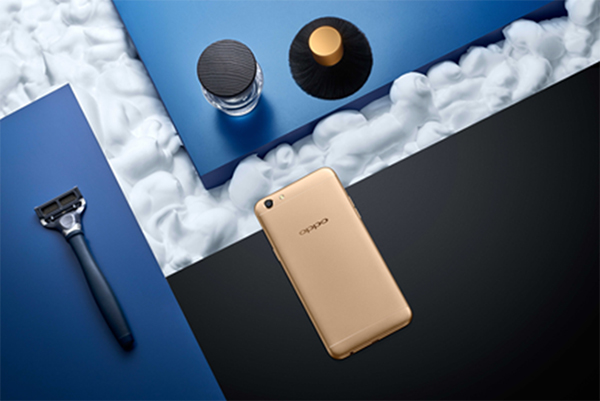 The F3 gets a higher energy density 3200mAh battery which gives your even longer endurance. In our real use simulation test, it lasted for more than 15 hours! That means, it can save you the inconvenience of bringing the heavy power-bank or look for chargers again and again on your trip.
Privacy protection and security is also a top priority. The F3 uses an advanced solid-state fingerprint reader, so that only a slight touch is enough to unlock the device. Equipped with a hydrophobic membrane the fingerprint reader has an enhanced success rate even when a user's fingers are moist.
Stunning Design and Exquisite Craftsmanship
With a lighter and thinner 5.5-inch body, the F3 contributes to a matchlessly comfortable grip. The smooth texture of the lustrous metal back panel repels dust and is a pleasure to hold. Every detail of the F3 comes together to give an impression of mercurial grace and beauty. Equipped with in-cell technology, the FHD in-cell display of F3 decreases 1/4 of the normal screen thickness, thus giving the whole screen a high rate of penetration and a bright image. So, what you see will be noticeably more brilliant and vibrant even in the sunlight.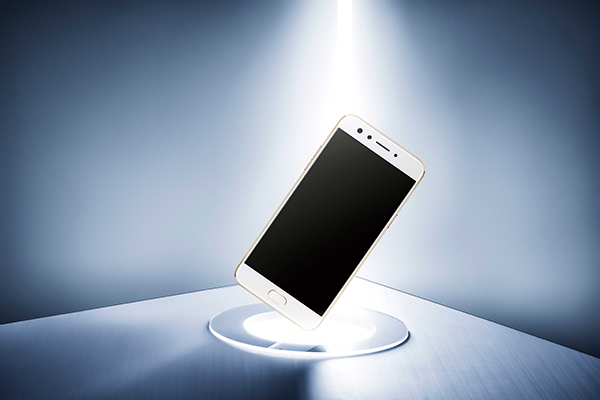 Amazing Colors & Competitive Pricing
The F3 comes in Gold and Black colors. Priced at LKR. 49,990.00, the Gold variant of the F3 will be available from May 13th 2017 both online and offline. The pre-order of F3 Gold version will start from 5th May to 13th May.