---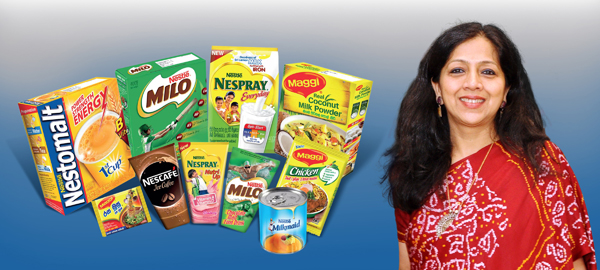 • Sales of Rs.27.8 billion with 6.1% growth
• Net Profit ofRs. 3.5 billion
• Focuses oninnovation and renovation, in line with Nutrition, Health and Wellness agenda
• Recognized for work done on positively impacting local communities, supporting economic development and deliveringworld class locally manufactured products
Nestlé Lanka'sManaging Director, Shivani Hegdestated: "The steady performance of our company is a result of the trust consumers place in our products, and the skills and commitment of our people. We have once again reaffirmed our position as a leading and respected company, committed to enhancing the quality of life of the people of Sri Lanka, through our strong brands and rural development initiatives."
Financial results
Nestlé Lanka PLC, recorded a revenue of Rs. 27.8 billion for the first nine months of the year, posting a growth of 6.1% and net profit of Rs. 3.5 billion.
The Company faced stiff cost challenges and volatile market conditions, the impact of which was minimized throughcost optimization measures and consumer led initiatives providing more value.
Business review
Leveraging the Nestlé group's strong R&D capability and Nestle Lanka's expertise in understanding local consumer preferences, the company launchedNescafé 3 in 1 coffee mix, offering coffee lovers a product perfected to give the right taste and aroma.Sri Lanka's trusted household favouriteMaggi noodles, unveiled its latest innovation, Maggi Daiya chicken flavourednoodles – a spicier and delicious variant. The product is fortified with calcium, providing 1/3 of the recommended dietary intake for this micronutrient, helping address calcium deficiency prevailing in Sri Lanka.
The Company continued to invest in Sri Lanka and recently invested around Rs. 500 mio in a new state-of-the-art milk processing and packing facility at its factory in Pannala, demonstrating its commitment towards enhancing local fresh milk usage.The company also stepped up its programs on local manpower development.
Recognitions
Nestlé Lanka was ranked the number 1 Food &Beverage Company in Sri Lanka inLMD's 'Most Respected Entities' for 2016. The company was recognizedat the Presidential Export Awardsas the 'Best Multinational Company engaged in Exports' forexport of Nestlé's coconut milk powder, which is available in over50 countries across the world. The company was also awarded the 2016 Swarnadeepa Golden Award for contributing to Sri Lanka's dairy sector.