---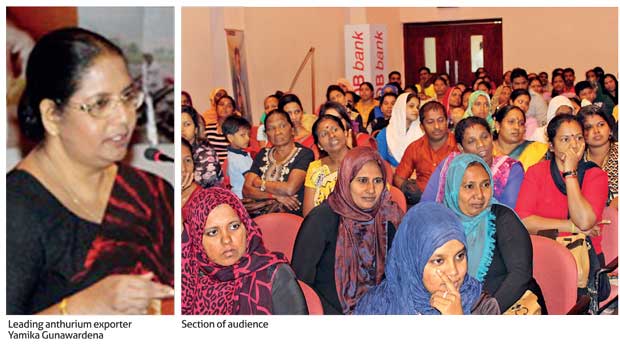 The old-time saying "The hand that rocks the cradle, rules the world" is becoming more relevant to today's society as the role of women become ever more essential in the economic growth. As a result of the growing role of women in decision-making and equal participation, the world has seen many women making great strides in the entrepreneur industry.
Microfinance has become an important tool for women as they start contributing to economic activities. Over the years, many organisations have worked towards empowering women and have seen positive growth in their skills through the support of microfinance in most parts of the country. Women in the present day are recognized as an imperative catalyst in the economic rejuvenation, especially in developing countries. Thus, National Development Bank (NDB) takes every effort to provide constant encouragement and propel financial guidance for Sri Lankan women with a determination to grow in their life.
Maduwanthi, a wife and a mother, began her finger food business at the Galle Face Green with one mobile cart. With the NDB Diviaruna microfinance loan scheme, she bought a second and third mobile cart. The persistent Maduwanthi didn't stop from there; she applied for another loan and acquired canteen services at a multinational construction company. Today she makes an average sales turnover of Rs.16 million per annum.
NDB recently held a workshop on the Empowerment of Small-Scale Women Entrepreneurs. The programme was aimed towards empowering women to participate fully in building financial stability across all sectors to build stronger economies. The objective was to ensure the inclusion of women's talents, skills and energies in developing sustainable livelihood for their families and communities.
"This programme, initiated by the NDB Microfinance Unit and NDB Nawam Mawatha branch, is the bank's first sustainability project for the year 2017. NDB makes every effort to see our mirco level entrepreneurs get to the next level and this is one initiative to help them do that," said NDB Vice President Administration and Services Delerene Seneviratne.
A special guest at this workshop was Yamika Gunwardena, an anthurium exporter who started off at micro level. In her speech she spoke of her path to success and shared her experiences of being a female entrepreneur.
"Every woman has immense power within, make a determination to achieve and the world will help you. Honesty is key and one must do the right thing at the right time," she said.
NDB Microfinance Officer Shalika Priyangani in her presentation discussed on how to improve knowledge on financial information and financial security.
"The problem starts when you don't know what happens to the money you earn. It is important that you discuss with the bank on ways to make most of your savings without having to use your capital to pay up loans."
The workshop also included a special discussion by Dr. Hiranthini De Silva on how to secure a good health. The participants were given invaluable health tips and advice on how to avoid diabetes, high blood pressure, high cholesterol, heart disease and more.
A session on grooming and personality was also carried out by Assistant Vice President Operations, Account Services and Credit Administration Ganga Wanigaratne.
NDB remains dedicated to bringing its customers one step closer to accomplishing their lifelong ambitions and uplifting their standards of living through the range of services that is accessible through its growing branch network.