---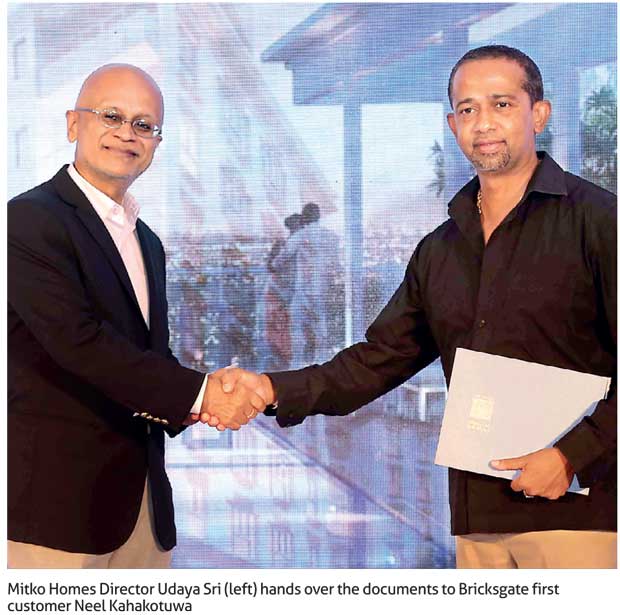 Redefining the skylines of Wattala, Mitko Homes launched its luxury apartments project 'Bricksgate' to cater to the needs of modern city dwellers looking for the comfort and tranquillity of a life away from the busy metropolis.
Located in the heart of the Wattala town, Bricksgate offers residents the 'urban haven' city living concept, which combines the 'comfort of convenience' of city living with that of the peace and serenity of a homely haven.
The apartment complex provides residents with easy access to the city and essential infrastructure facilities such as schools, hospitals, supermarkets, banks, the airport expressway, places of worship and restaurants. At the same time, the aesthetically alluring apartments can be customized to reflect the tastes and lifestyles of residents to create an idyllic home based on values of family, recreation and wellbeing.
Speaking on the launch of the new apartment complex Mitko Homes Director Udaya Sri said, "With Bricksgate, our focus is to weave an ideal home for the city-dweller. We picked a location which has easy access and conveniences of a city-centre home coupled with the peace of mind and tranquillity that many city dwellers of today are looking for.
Our aim is to offer our customers the best of both worlds. The 'comfort of convenience' is created by all essential infrastructure facilities that are just a few minutes away. While the apartments are modern, homely and tranquil, each unit can be customized according to the preferences of the residents."
"Further, the complex is inspired by British colonial architecture and is built to suit the local conditions and lifestyles. The interiors of the apartments are spaciously designed and thoughtfully planned. All units come with separate maid's quarters that have access from the outside," he added.
The nine-storied building constructed on a land plot of 87.4 perches comprises of a total of 56 units. This includes 33 three-bedroom units, 21 two-bedroom units and two exclusive duplex penthouses. It is also equipped with recreational facilities such as a roof-top infinity pool and gymnasium and other facilities such as a club house, ample parking for both occupants and guests and 24-hour security within the compound.
In conceptualizing Bricksgate, Mitko Homes draws inspiration from their experience of building town houses in Victoria, Australia since 2014. Mitko Homes is part of the Mitko group, a dynamic entity operating in multiple sectors. It consists of Mitko International, Mitko Construction, Mitko Trading and MitkoSkyswitch.
The group which was initiated over 10 years ago aims to build better planned communities with a focus on civil engineering, infrastructure, earthworks, construction and building development. Mitko Construction has been involved in the construction of several other projects in the country for other developers.