---
'Mentor on Road' is a concept, envisaged by Jagat Shah from India, in which micro, small and medium-scale enterprises, women and women empowerment institutions and start-ups are mentored while travelling on the road, on various topics, free of charge.
This concept was initially launched in India, where Shah addressed 10,000+ companies, by travelling to 35 cities and villages, driving 9400+ kilometres.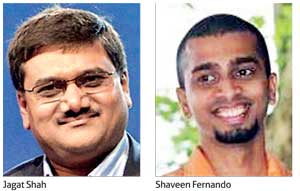 Shaveen Fernando, under the guidance and training of Shah, started 'Mentor on Road - Sri Lanka', the first international Mentor on Road trip, starting from May 17, 2017.
Fernando is the initiator of SALTwww.saltglobal.org and has been working since many years to improve the living standards of people through goal setting in finances, social development and mindset development. He has worked with different levels in the community to mentor and empower in developing skills, develop practical habits to better manage time and get engaged with better economic development activities with a growth mindset.
Fernando will be addressing micro, small and medium-scale enterprises, young entrepreneurs, start-ups, women and women empowerment institutions across 30 cities, starting from Colombo. The entire trip will take 11 days. The aim of Mentor on Road Sri Lanka is for:
Micro/cottage industries to have the confidence by equipping them with low-cost tools to start national and global marketing.
Small industries to work in clusters to form consortia to reach national and global markets.
All stakeholders to receive the most innovative ways and best case practices around the world to start business/export and build relations and network globally.
More women to be involved in the business activities in Sri Lanka and contribute to the Sri Lankan economy.
Young entrepreneurs to create jobs through start-ups and Mentor on Road will mentor them to become successful.
Mentor on Road Sri Lanka will be appointing and training city/town mentors for each city and these mentors will continue and strengthen further the work done during the tour.
Shah will be doing a similar tour in the USA, in June, over a period of 78 days. This tour in the USA, across 30 cities and 15000+ kilometres, is supported by the United States Department of Commerce.
Post the tour, Indian and American businesses will be connected to the Sri Lankan businesses through the city mentors, adding value to each organisation independently.
The programme being of such vast scope, we look forward to forming a long-term alliance with your organisation. For this, we look forward to you as a partner of Mentor on Road Sri Lanka. Please note that Mentor on Road Sri Lanka will not be charging any sort of fees to the beneficiaries, as this tour is being undertaken with a purely philanthropic point of view.