---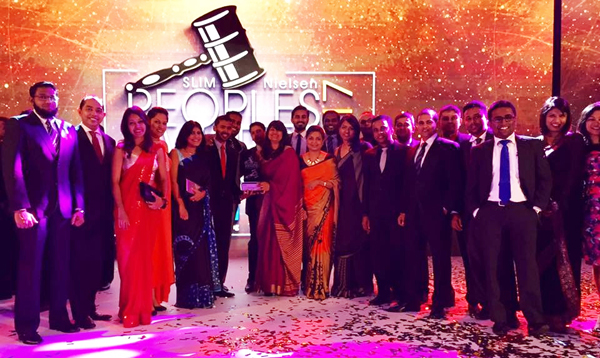 The Nestlé Sales and Marketing team with the award
Sri Lankan youth vote Maggi "Youth Food Brand of the Year' at SLIM – Nielsen Awards
Nestlé's Maggi brand was voted 'Youth Food Brand of the Year' for the fourth time by young consumers at this year's SLIM-Nielsen Awards. This is the fifth consecutive year that Maggi has won a SLIM-Nielsen People's Award. The win is an endorsement of the trust consumers place in the brand and their love for the brand's latest addition to its product portfolio, Daiya Chicken flavoured noodles, whose appealing taste enhanced Maggi's popularity amongst local youth.
Maggi Daiya Chicken flavoured noodles is a spicier and flavoursome variant for teenagers who enjoy spice in their food. The product is fortified with calcium and features popular spices, contributing to the product's great taste.
Said Priyadarshinie Karunaratne, Vice-President - Food at Nestlé: "We couldn't be more thrilled and humbled to win this award. Our consumers have always been at the heart of the brand, and all of the renovations we have been making to our products has been in response to their needs and preferences. To be voted their number one choice for five years running is indeed an honour. We'd like to extend a big heartfelt thank you to all of our consumers for their support and trust. They will always be at the centre of our Maggi world and we will continue to provide ways to assure that their 'Happiness is Homemade."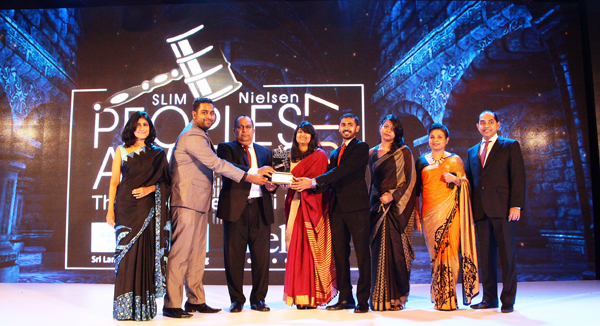 From left to right : Radhini De Costa, AVP - Marketing Services, Nestlé ; Prabhath Karunarathne, Category Manager - Food, Nestlé ; Deepal Abeysekera, Head of Marketing and Public Affairs, People's Bank ; Samantha Samarawickrama, Assistant Brand Manager - Food, Nestlé ; Nuwan Rathnayaka, Brand Manager - Food, Nestlé ; Ramesha Ranaweera, Brand Manager - Food, Nestlé ; Priyadarshinie Karunaratne, VP - Food, Nestlé ; Roshan Perera, AVP - Nestlé Professional, Nestlé.
Maggi has been a trusted Sri Lankan household favourite for well over 30 years. Its range has been expanded and renovated over the years to ensure it remains relevant to local consumers, as their needs and preferences evolve. As part of Nestlé's ongoing efforts to ensure its products offer a superior nutritional profile, Maggi's most recent renovation includes enhancing its noodles range with popular 'home ingredients' typically found in Sri Lankan kitchens, such as turmeric, nutmeg, coriander, cumin and cardamom, , and fortifying it with vitamin A and calcium to support the country's efforts to address micronutrient deficiencies.
Nestlé's Managing Director, Ms. Shivani Hegde, said: "Nestlé's strength lies in our ability to use our global R&D and expertise whilst operating as a local entity. As Sri Lanka's local multinational, with deep roots in the country for over 110 years, we are proud to be our consumers' No. 1 choice in food. We will continue to innovate and renovate our products in line with local consumer needs, support the country's efforts to address micronutrient deficiencies, and empower our consumers to make informed choices in their diets and lifestyles, thereby enhancing the quality of life of people across the value chain and contributing to a healthier future."
The SLIM - Nielsen People's Awards is Sri Lanka's premier marketing awards ceremony. Award recipients are chosen by consumers between the ages of 15 to 60 via a structured questionnaire conducted by Nielsen island wide.