---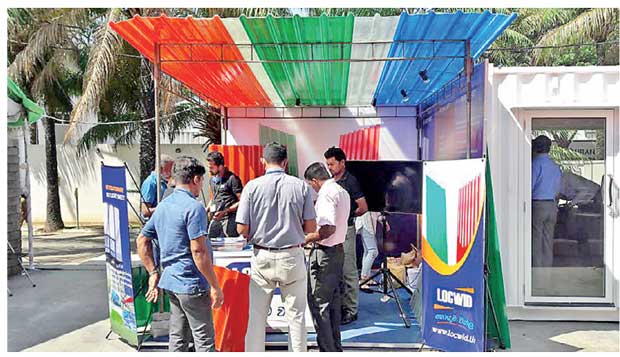 Traditional flat roofs have long been the bane of the construction industry. They are slow to install and once finished, are extremely heavy, adding deadweight to the roofing structure and possible damage.
Ceylon Locwid High-Tech Building Materials (Pvt.) Ltd, which belongs to world-renowned Qinhuangdao Locwid New Material Technology Company Ltd and Qinhuangdao Songhe Composite Materials Development Company Ltd, has introduced the most modern and eco-friendly solution to the problem, while adding little light to the subject, with its fibre reinforced polymer (FRP) panels and sheets at a competitive price.
Ceylon Locwid High-Tech Building Materials (Pvt.) Ltd Operations Director Chamara Danthanarayana explained, "Locwid roofing products are super light yet extremely strong flat roof structures, with a unique versatility for architectural applications and favoured for traditional styled housing. They are a reliable alternative for traditional asbestos, aluminum, PVC and zink-coated roofing products, providing high-impact resistance, which withstands long exposure to extreme weather conditions, acid and termites while adding an extra ambiance."
With over 70 percent of world market share in FRP products, covering more than 75 countries including the USA, UK, Canada, Europe, Brazil, Saudi Arabia, Jordan, India, Russia, Indonesia, Malaysia, Vietnam and Azerbaijan, Locwid's unsurpassed commitment to quality and product innovation has positioned the brand at the forefront of consumer choice.
As the world number one manufacturer of FRP products, the brand has proved its quality in various industries including manufacturing, pharmaceuticals, shipping industry, town and country planning and architectural construction. In addition to the roofing products, the company also specializes in FRP wall panels, anti-aging wind-resistant FRP gutters, GFRP sheets, FRP decorating panels, truck body sheets and artistic decorative sheets.
"We not only obtained the ISO 9001:2008 certification but our products have also passed the European Union (EU) standard certifications for the EU and US-standard certifications for the USA. The revolutionary skylight sheet is one of the best examples for our belief in quality. Made by high-performance mylar, high-quality saturated polyester resin, the skylight sheet guarantees preventing dust and provides protection from UV rays," he added.
The Locwid FRP translucent sheet is the ultimate solution for the need of superior light transmission from the roof, its multi-angle bending of light make the sunlight shine softer for a smooth ambience indoor. The portfolio also promises a 100 percent customized fire retardant and low thermal conductivity that cuts heat waves by 60 percent and save electricity usage.
The easy installation and excellent choices of Locwid FRP is also complimented with a 30-year warranty and an extendable 99 percent UV protection. The standard width of the corrugated roofing sheet commonly used in the Sri Lankan market stands at 1090mm, while the box profile roofing sheet has a standard width of 840mm. Locwid can manufacture customized sheets according to customer specifications.
The product line is available in 0.8mm to maximum, with an average operating pressure of 32000 PSI, capable of safely supporting normal foot traffic and the weight of maintenance workers. Customers can choose from the wide range of profiles with different colours, including tile red, green and blue. The company also provides free islandwide delivery through a vast network of distribution centres and appointed hardware agents.