---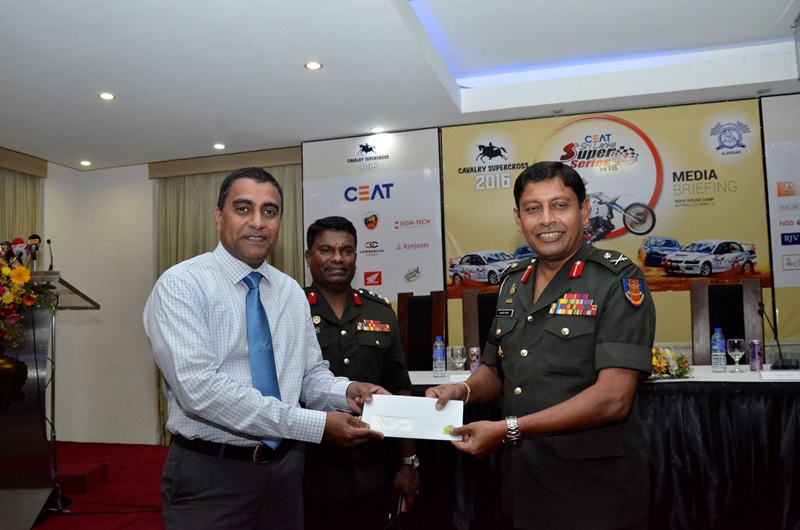 Mr.Chaminda Ediriwickrama, Director- Sales and Marketing, Litro Gas Lanka Limited handing over the sponsorship cheque
Litro Gas, the largest national importer and market leader of Liquefied Petroleum Gas (LPG) in Sri Lanka, stepped up as a co-sponsor for the Cavalry Supercrosswhich concluded recently at Panagolla, Kurunegala.
Organized by the Sri Lanka Armoured Crops (SLAC) in collaboration with Sri Lanka Association of Racing Drivers and Riders (SLARDAR), the racing event was held on 12th June with the participation of highly experienced riders and drivers who showcased their skills through many events on the track which was constructed as per international standards.
The Cavalry Supercross this year facilitated ninety nine riders and seventy five drivers, including those from other countries, and featured 12 cars and 12 bikes' events in total. The event is a brain child of Brig. IndunilRanasinghe of the Sri Lanka Armoured Corps. It all began during 2010 with a primary motive of raising funds to provide welfare facilities to immediate family members of officers and men who were killed or maimed in battles.
'We are delighted to have been a sponsor for the most splendid and glamorous event in the racing arena of Sri Lanka. It has turned into a platform where local riders and drivers can showcase their talent and take it up to a global stage. We hope to continue sponsoring similar initiatives in the future,' said Mr. ChamindaEdiriwickrama, Director- Sales and Marketing of LitroGas Lanka Limited.
Cavalry Supercross has helped the army build necessary infrastructure within the camps such as housing, working environments, recreational facilities, medical, billets and dining facilities. It has also to-date helped construct 18 houses, 3 holiday bungalows, fund welfare projects or training centre, purchase meds and essentials, contribute to army's brave heart and 'virudaru' projects.
Litro Gas Lanka Limited (LGLL) is the leader in marketing and selling LPG in Sri Lanka along with its associate company Litro Gas Terminal Lanka (Pvt) Ltd. The company is the owner of the brand 'Litro Gas' which serves customers through over 5,000 points of sale Island-wide. Litro Gas has a reputation for the strict implementation of safety standards and is considered as an important cornerstone in its company strategy