---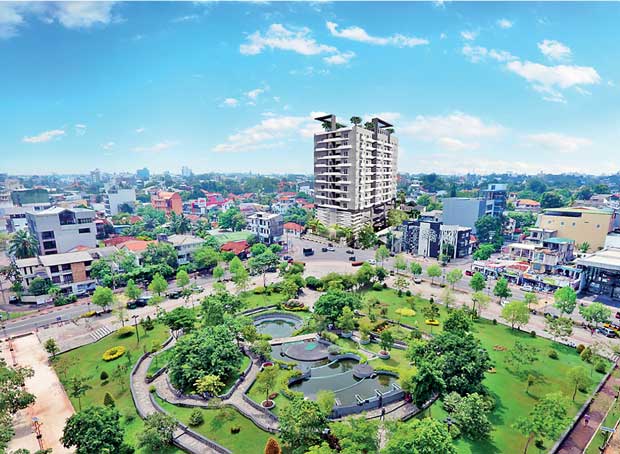 Home Lands Skyline has reached another milestone with the completion of the piling of Porshia Nawala project.
The next phase of construction has been awarded to Access Civimech (Pvt) Ltd, a subsidiary of access group of companies with the aim of handing over a high quality project to its clients in the scheduled period of time.
Last February, at the ground-breaking ceremony of the Porshia Nawala, Home Lands Skyline officially awarded the Piling phase of the Porshia Skyline Residencies to San Piling (Pvt) Ltd,a subsidiary of Sanken Group.
Currently under this real estate development arm, 727 apartment units are under construction.
Among these projects that are being developed by Home Lands Skyline, Porshia Skyline Residencies has raised the concept of luxury living into a whole new level of experience, with its purpose of offering a decent space and residents to its customers. Since the launching of the project, there has been impressive requests to invest in this mega project.
Located off Nugegoda, in front of Nawala Wetland Park (Wali park), overlooking the Nawala town, Porshia stands elegantly in the middle of rural and urban environment. Within next couple of years the area will benefit from the Megapolis Development project of the Western Megapolis Ministry. Further, due to its close proximity to Colombo, the area is already popular among mid and upper income class families.
Due to this benefit of strategic positioning and the concept behind the project, Porshia Nawala will be one of the landmark projects of Home Lands Skyline, that will not only provide a decent luxurious lifestyle, but also a valuable investment. Therefore, the completion of the piling of the project within the time schedule has been a milestone that reflects the commitment by the whole project development team to deliver a quality, decent and luxurious living place for its clients. Awarding the next phases of the project to Access Civimech (Pvt) Ltd has been another step forward in maintaining the high quality and standards throughout the project.
By partnering with these reputable contractors from the piling phase to the next phases of construction, Home Lands Skyline expects to bring the luxury of a quality project to its customers.