---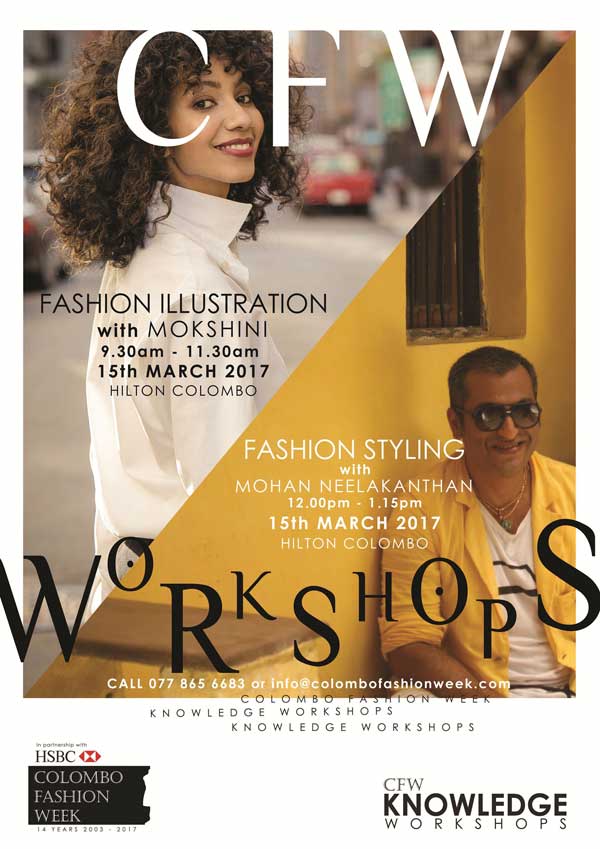 Workshops on Styling and Illustration by Industry Experts
Enhancing the knowledge base of aspiring designers is one of Colombo Fashion Week's key initiatives. Skillset upgrades and knowledge sharing are meticulously planned. Following this, experts are invited to conduct workshops that will nurture new talent and transform them into professionals in the industry. The first day of the main Colombo Fashion Week Summer show will feature knowledge workshops by some of the industry's most sought after experts to provide the event's attendees with useful insights into the world of styling with Mohan Neelakantan and fashion illustration with Mokshini.
This season of Colombo Fashion Week, workshops with some of the industry's most sought after experts to provide workshops' attendees with unique insights into the world of styling with Mohan Neelakantan and fashion illustration with Mokshini. A celebrated figure in the world of fashion and style, Mohan's has worked as the former fashion director of Elle India and a fashion stylist/anchor with NDTV's GOODTIMES' channel. His eye for detail and the life motto he abides by which is "live and let live but stylishly" reflects in most aspects of his work has made him a fashion force to be reckoned with. He is experienced as a fashion director and a fashion stylist/anchor.
A renowned figure in the world of fashion and style, he joined NDTV GOODTIMES in 2007 and was actively involved in the direction of content of I'm Too Sexy for My Shoes, Cool Quotient and Vanity No Apologies. Apart from his association with Elle and NDTV GOODTIMES, he has also been actively involved in the styling of the Kingfisher Calendar series. Mohan continues to contribute to an array of advertising productions, media and publication initiatives on the styling front and has worked with almost all of India's most recognised fashion photographers, models and Bollywood actresses for Elle covers and fashion features. This season's CFW Knowledge Workshops will witness Mohan Neelakantan enlighten designers and workshop attendees on 'The Evolution of Styling'.
Nadeesha Godamunnea.k.a Mokshini, is an acclaimed fashion illustrator who has made a name for herself in the world of fashion with her humorous and distinctly signature fashion sketches that push the boundaries of traditional fashion illustration. Her direct and spontaneous drawings have gained her considerable recognition in the world of live drawing while her passion for satirical fashion story-telling is reflected in the whimsical and flamboyant personalities she captures at important events in the global fashion calendar including New York Fashion Week.
Her high-profile client base includes renowned names such as Neiman Marcus, Bergdorf Goodman, Prabal Gurung, Alice and Olivia, Erin Fetherston, and Unilever. Since her big move to New York in 2013, Mokshini broadened her repertoire and explored textile design, working with major brands such as Siladora, Abby Lichtman, Calvin Klein and Ralph Lauren. Lending to her extensive portfolio of achievements are brands such as J- Crew, White House Black Market, and Oxosi, that have profiled Mokshini in campaigns and social media, to cross-promote their products. Nadeesha will lead a workshop on illustration,imparting her experience and wisdom on the subject at CFW Summer '18's upcoming CFW Knowledge Workshops.
HSBC CFW 2016 is enriched by its partners: - HSBC Colombo Fashion Week is enriched by its partners who have understood the vision behind CFW and take great interest in raising the standards of fashion and making a mark internationally - HSBC, Hilton Colombo, Sri Lanka Tourism Board, Sri Lanka Tea Board , Jaguar, Colombo Jewellery Stores, Pond's BB+ - Unilevers, The Residences by One Galle Face, Etisalat, Wineworld, Olu tropical Water, Vision Care, Ramani Fernando Salons, Printage, Leo Burnett and MSL Group and Emerging Media.
For further details, please visit www.colombofashionweek.com or follow CFW on Facebook (www.facebook.com/colombofashionweek), Twitter (@colombofw) and Instagram (@colombofw).