---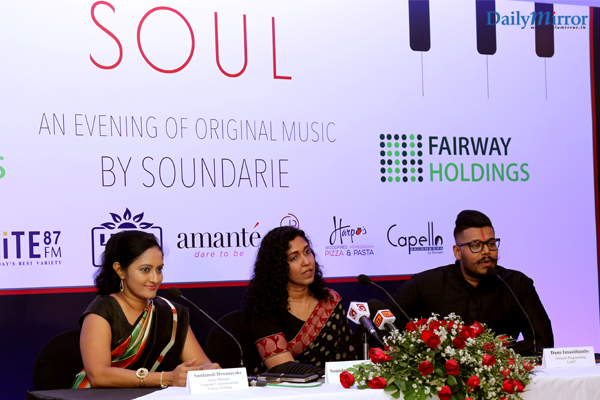 From left ,Sandamali Hewanayake, Senior Manager Corporate Communications Fairway Holdings, Soundarie David Rodrigo and Danu Innasithamby, Director Programming Lite 87
Maybe you've heard her play Beethoven or Grieg … or maybe Gershwin? Heard her perform two-piano recitals? Then again, you're bound to have heard Soul Sounds, the internationally acclaimed choir she directs…or could it be that you've heard her stunning choral arrangements and covers which range from ethnic, pop to Gospel in style?
Whatever the genre, whatever the style, we have heard Soundarie David-Rodrigo (or 'Sounds' as she is aptly nicknamed) perform it. What we have not heard her perform is, surprisingly … herself. Now, Soundarie has finally decided to reveal what really lies at the heart of her music by presenting SOUL—an evening of original music. Fairway Holdings , exclusive sponsors for Soul Sounds, Chamber Music Society of Colombo, and the Fairway Galle Literary Festival, have once again come forward to support this new venture and are proud to be associated with 'Soul' By Soundarie on June 7th 2017, Lionel Wendt Theatre—keep it free, because it's going to be a concert with a difference.
Soundarie is going to share a bit of her soul with us—show us what has shaped, inspired and guided her on the road to being the musician she is today, by taking us on a tour of original pieces inspired by the genres of music that have most influenced her. You might hear something Baroque-inspired, or smacking of jazz . . . something with a touch of gospel to it … who knows? Soundarie is full of surprises and has enough versatility to keep you guessing.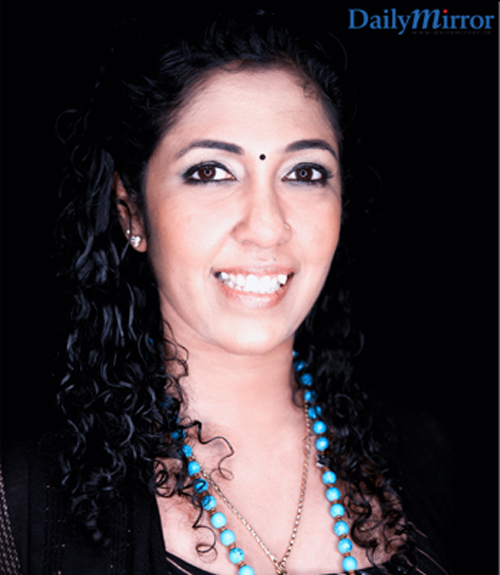 This is a significant departure from the norm for her, yet she more than most understands that music is a form of expression, an ever-changing, evolving art which demands that its practitioners move and change along with it. Presenting original work incredibly challenging—satisfying and rewarding and also terrifying. Yet stepping out of one's comfort zone is all about pushing yourself as an artist, and Soundarie has never been one to stand still.
Soundarie wrote her first original in 2015-- a song titled 'Journey' which was performed by Soul Sounds. Her family and friends have always been incredibly supportive of her musical journey—enabling, encouraging and sometimes pushing her to scale ever-greater heights.
A piano student of the legendary Mary Billimoria and then Ramya De Livera Perera, Soundarie went on to complete her musical studies at the Royal College of Music in London, receiving an ARCM in piano performance and piano accompaniment. She has performed as soloist with the Symphony Orchestra of Sri Lanka to great acclaim, and in 2013 completed a series of solo performances in Washington DC for concerts commemorating Martin Luther King. She regularly performs two piano recitals with well-known pianist Ramya De Livera Perera both at home and abroad.
As Founder and Music Director of Sri Lanka's premiere female ensemble, 'Soul Sounds' she has pushed the boundaries of choral fare and presentation in this country, winning multiple awards and international recognition for her work and for the choir. She also runs her own music Academy 'The Soul Sounds Academy,' which focuses on all aspects of music.
Her talents are not limited to music -- Soundarie is also a lawyer with a masters in law, in the field of Intellectual Property and Entertainment Law from the University of California, Berkeley. She was the Deputy Director at the SAARC Cultural Centre based in Sri Lanka for the last 6 years, and is currently the Director, Programs for the Colombo Cultural Hub.
SOUL features Soundarie's original compositions, in which some of the artists she will collaborate with include Jerome De Silva, Dushy Perera, Ravibandu Vidiyapathi and his drummers, Neranjan De Silva, amongst many other musicians.
SOUL is sponsored by Fairway Holdings – as the main Gold Partner, with Lithro Gas, Amantè, Wine World.lk as its Silver Partners, Design Partner – Chums Design & Print, Event Partner – Javin Thomas, Radio Partner – LiTE 87 fm, Harpo's as Ticket Partner, and Capello Salons – for official Hair and Make up.