---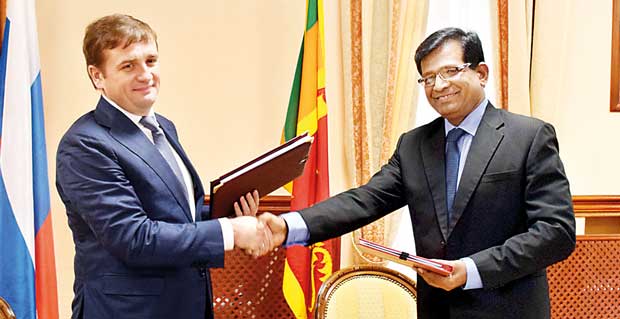 Industry and Commerce Secretary T.M.K.B. Thennakoon (right) and Russian Agriculture Deputy Minister and Head of Federal Agency for Fishery Ilya Shestakov (left) exchanging the agreed minutes of first Sri Lanka-Russia Intergovernmental Joint Commission on Trade, Economic, Science and Technical Cooperation in Moscow on February 12
The first-ever Sri Lanka-Russia official trade talks were successfully concluded in Moscow on February 12. The talks covered a wide array of relevant topics-with the Russian side showing an extra interest in agricultural cooperation.

The Sri Lanka-Russia Intergovernmental Joint Commission on Trade, Economic, Science and Technical Cooperation is one of the primary mechanisms to discuss the ways and to resolve various issues and boost bilateral trade, scientific and technical cooperation. The sessions, initiated and organised by the Commerce Department of Sri Lanka (DoC), began on February 10 and concluded on February 12.

Industry and Commerce Secretary T.M.K.B. Thennakoon led the Sri Lankan delegation joined by Ambassador of Sri Lanka to the Russian Federation Dr. Saman Weerasinghe and Director General Commerce Sonali Wijeratne. The Russian side was led by Russian Federation Agriculture Deputy Minister and Head of Federal Agency for Fishery Ilya Shestakov, Ambassador of the Russian Federation to Sri Lanka Alexander A. Karchava.

"The launch of the Intergovernmental Commission mechanism between Sri Lanka and Russia will improve the efficiency of bilateral trade-economic and scientific-technical cooperation due its systemic outlook. We like more fishery products as well as fruits and vegetables from Sri Lanka. Sri Lankan fruits and vegetables are no threat to Russian farmers," said Minister Shestakov.

Egypt has become a leading supplier of fruits and vegetables to Russia.

The talks spanned a wide array of relevant topics - trade, investment, education, industry, customs, technical and science - with the Russian side showing an extra interest in agricultural cooperation. During the bilateral talks, Shestakov stressed the importance of establishing a joint working group on agriculture sphere to further develop the bilateral relations between the countries.

Shestakov also expressed Russia's interest to buy more seasonal fruits and vegetables and fishery products from Sri Lanka adding Russian cereals could be attractive to the Lankan market. Sources said that the official process for draft agreements for cooperation in the fields of science, technology, innovation and customs – called by the Sri Lankan side – were also taken off at the Moscow sessions.

According to the Russian Federal Customs data, bilateral trade between Sri Lanka and Russia in 2015 stood at US $ 437 million. According to the Commerce Department of Sri Lanka, total trade between Sri Lanka and Russia has been growing significantly since the disintegration of the former Soviet Union in 1991.

Sri Lankan exports to Russia in the first nine months of 2015 stood at US $ 152 million and imports US $ 161 million. Currently Sri Lanka's major export item to Russia is tea, which accounts for nearly 85 percent of total exports. Other items that Sri Lanka exports to Russia are apparels, activated carbon, rubber and industrial gloves, coconut fibres, paper or paperboard labels, mattress supports and retreated or used tyres plastics. Sri Lanka's imports from Russia shows a positive trend in the past few years and the major import from Russia are semi fished products of coal, iron, wheat, fertilizers, asbestos, paper, paper board products and self-adhesive plates (Potassium Chloride).