---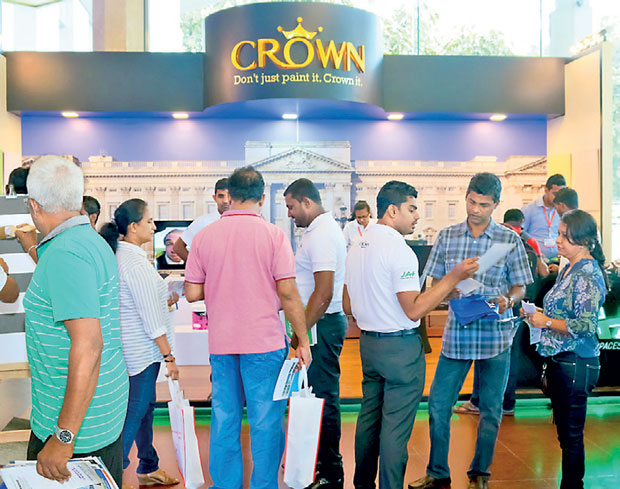 Crown Paints reigned supreme at the recently concluded Construction Expo 2017 at the BMICH. The JAT Holdings stall which literally held centre stage at the exhibition was designed as Buckingham Palace symbolising the fact that it is the only paint in Sri Lanka which is a Royal Warrant Holder by explicit appointment to HM The Queen; a title which has withstood the passage of time over two centuries.
This exhibition which has become synonymous with showcasing the cutting edge innovations of the construction industry, witnessed the convergence of all major local and international players in the field. It also facilitated a plethora of potential market opportunities in the construction sphere within the South Asia Region.
"Crown Paints which is a pre-eminent brand represented by JAT enables customers to choose from a broad range of products which are on par with global industry standards. Through the years Crown Paints has continued to serve the versatile requirements of its ever-growing customer base, hence the opening of 50 new shops this year which will exclusively feature a diverse array of Crown products befitting the paint needs of their valuable customers," said Director Sales and Technical, South Asia, of JAT, Wasantha Gunarathne.
Crown is available in all JAT Tech centres and exclusive Crown centres opened island wide. This British brand, endorsed with the Seal of Royalty, offers a multifarious range of products covering a vast spectrum of paint requirements, comprising interior silk emulsion and exterior emulsions, fire-retardant paints, anti-bacterial paints, wall-filler, joint compound and skim coat.
Crown Paints has an enviable range of paints which incorporate many innovations such as the Crown Silk Emulsion; a premium range favoured for interior use on wall and ceiling surfaces. Available in many inspirational shades, they are all made with breathe-easy formulations which make it 99 percent solvent-free, odour-free and consists of low VOC (volatile organic compound).
The range is dust and dirt resistant and is infinitely easier to clean than the average paint. The smooth silk effect affords an aesthetic and luxurious finish to the walls in a delicate shine in which a washable high sheen finish can be achieved.
The Crown Metallic Emulsion for interior walls creates a glamorous shine effect making it a brilliant option for feature walls, stripes, stencils or details.
The Crown Weather Coat Extreme Exposure is a superior, durable, smooth exterior wall paint, which provides the best possible protection against exposure to the most extreme tropical conditions. This selection was awarded a British Board of Agreement certificate laying claim to its prolonged durability which lasts 10 years.
The Timonox flame retardant coatings backed by the Warrington Test Certification for fire in UK for its first line defense against the spread of flame offers a comprehensive solution to building owners, facility managers and employers to protect the occupants of their properties.
Crown Trade Steracryl Anti-Bacterial Scrubbable Matt is suitable for interior walls and ceiling surfaces. It offers a true, anti-bacterial finish using independently tested SteriTouch silver ion technology, with Class 1 scrub rating, offering durability and longevity, allowing repetitive cleaning.
Crown Paints, the largest and most successful paint manufacturer in the UK and Ireland, boasts of a network of global branches. It has enjoyed over two centuries of enviable experience in producing the ultimate in quality and functionality.
JAT Holdings, which represents Crown Paints in Sri Lanka, has made rapid strides in the island's furnishing and finishing industry by achieving the status of market leader within a short duration. With its commitment to innovation and expansion, JAT Holdings continues to add premium brands to its extensively rich portfolio which caters to the local and international markets.