---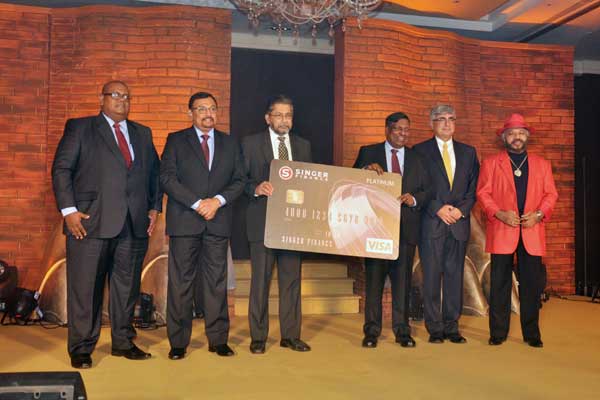 Singer, with a long and rich history in Sri Lanka and present in virtually every home in this country, is set to formally launch its Singer branded credit card through Singer Finance, joining hands with VISA international, on 8th July 2016. Having introduced the concept of 'hire purchase' to the world, Singer has a rich history of catering to customer needs and helping them purchase products with ease. Hence the Singer credit card can be considered an extension of its age-old customer-friendly tradition.
The new Singer-VISA credit card application can be obtained at any one of the 435 Singer and Singer Finance Branches across the country. The Singer credit card can be used at merchants who accept credit cards across Sri Lanka and to withdraw cash from ATMs connected to the VISA network. It can also be used worldwide at over 14.0 million merchants, as well as to withdraw cash from more than 2 million ATMs in more than 200 counties.
While primarily known as a retail marketing giant in Sri Lanka, Singer has also made its mark in financing through hire purchase. With the setting up of Singer Finance, they also provide vehicle financing through leasing and hire purchase, in addition to other forms ofconsumer finance such as loans and micro Finance, as well as Business-to-Business(B2B) finance activities such as Invoice Discounting and Factoring.
Commenting on this aspect of the Company's business, Mr. Asoka Pieris - Group Chief Executive Officer of the Singer stated"We have a wealth of experience, knowledge and systems in managing consumer finance, which has evolved to provide many forms of financing. Today, apart from the major Banks, Singer has the highest number of customers being provided with financing at any given time. Therefore, it was very logical for Singer to enter the credit card business. Credit cards are used in Sri Lanka by less than 10% of those who are eligible to do so, limited to the urban and semi-urban upmarket customers. Singer Sri Lanka, with its large and loyal customer base numbering millions across the length and breadth of the country, together with a well-established tradition in customer relations, poised to make its mark in this market, which has massive growth potential. The fact that Singer has one of the lowest non-performing loan ratios in the island,is an invaluable asset in the credit card industry."
Deepak Chandnani, CEO Worldline South Asia & Middle East says, "We are glad to associate with Singer Finance and launch the first credit card from an NBFI in Sri Lanka. Worldline will be responsible for card issuance and management that will be of the same international standards we are known for. The Sri Lankan market has a strong base of over 16.3 million debit and credit cards. With transactions growing at around 27%, we see great potential in the country. We are happy to have Singer Finance (Lanka) PLC as our first partner and look forward to providing more of our services to the people and institutions of Sri Lanka."
According to Mr. Thilan Rupasinghe, Head of Credit Cards at Singer, 'All customers will enjoy the benefits of Singer Credit Card's partnerships and promotions with hotel chains, supermarkets, food outlets and all other leading establishments'. Further he stated that customers would also enjoy unmatchable promotions from Singer showrooms such as Singer Plus, Singer Mega, Singer Homes and Sisil Showrooms with discounts, trade-ins, free give aways with 0% interest and installment plans upto 24 months with no additional charges. He added that Singer credit cards incorporate chip-based technology, which is on par with the best security features in the market.
Mr. Shantha Wijeweera, Singer Finance CEO had this to say: 'We are aiming at different market segments that were traditionally with SINGER retail channels. They are our tried and tested hire purchase customer base, whose loyalty is well established. Also, Singer Finance is the first finance company to issue a credit card approved by the Central Bank. This is a distinction which Singer would like to make clear in its communications to potential customers. 'You are with Singer Sri Lanka with whom you have reposed your trust over the past 139 years'.