---
Access Engineering PLC, a leading infrastructure developer with diversified business interests saw its group earnings increasing to a little over a billion rupees during the January-March quarter (4Q17) from Rs.650.3 million during the same period last year, recording an increase of 55 percent, the interim earnings report for the period showed.
The performance has been lifted by the group's key construction segment as this segment of the business appears to have been helped by the pickup in construction activities in the economy.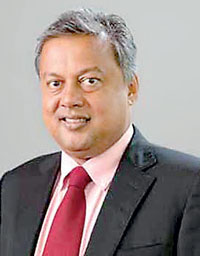 The quarterly earnings per share rose from 64 cents to 83 cents during the 12-months. The company's share ended 20 cents higher at Rs.26.30 at last week's close. The group revenues rose by 14.2 percent to Rs.5.17 billion from a year ago.
The group also has interests in telecom, power and renewable energy, water projects, information technology, healthcare, education and property development.
In January, the company committed little under Rs.3 billion in return for a 51 percent stake in Hotel 10 (Private) Limited, a joint venture between Mustafa's Pvt Limited and China Harbour Engineering Company (Lanka) Limited, to build a 250,000 square feet commercial and residential development with 1,000 dwelling units in Colombo 15, overlooking the Colombo Port. The total investment for the project is estimated at Rs.10 billion. Further, in May 2016, the company bought 50 percent stake in Blue Star Constructions Private Limited for Rs.800 million to develop a condominium in one acre land in Rajagiriya. Meanwhile, for the year ended March 31, 2017, Access Group reported earnings of Rs.2.88 billion or Rs.2.70 a share, recording an increase of 16 percent. The turnover for the year was Rs.20.45 billion, up 16 percent from a year ago.
According to the segmental results, the construction segment increased profit after tax up to Rs.2.34 billion from Rs.1.7 billion year-on-year (YoY). Sathosa Motors PLC, the group's auto segment, which holds the franchise for Isuzu motor vehicles in Sri Lanka, saw its profits falling from Rs.327.9 million to Rs.240.1 million.
As of March 31, 2017, Access Group Chairman Sumal Perera held 25 percent stake in the company while the state-controlled private sector pension fund, Employees' Provident Fund held 2.05 percent stake being the 11th largest shareholder. Norges Bank, the Central Bank of Norway, held 2.36 percent being the 10th largest shareholder of the company.