---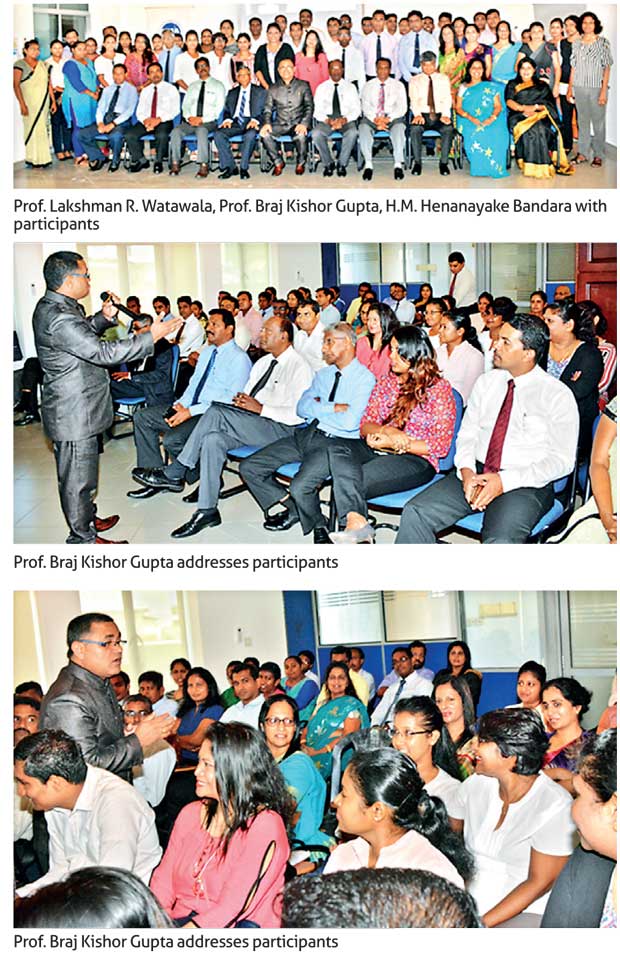 A seminar on the topic 'Manage Your Emotions: Lift your Life', organised by the Institute of Certified Management Accountants of Sri Lanka (CMA) and Certified Professional Managers (CPM) recently, at the CMA auditorium, had a huge impact on the hearts and minds of the participants.
Assistant Manager of Risk and Compliance Athithan said, "I had expected only some specific techniques on managing emotions but instead we got lifelong confidence and guidance, an amazing experience indeed."
According to another active participant, Assistant Registration Officer H.S. Lakmali Dias, "It was the best workshop of my life in terms of value addition."
CMA President Prof. Lakshman R. Watawala inaugurated the seminar and delivered the welcome address. He welcomed Prof. Braj Kishor Gupta, a renowned speaker and a mentor who is in Sri Lanka to attend a conference and had agreed to come and address the members of CMA and CPM.
He also welcomed Dr. Ripu Ranjan Sinha, who had accompanied the guest speaker. He stated that the topic would be of great importance to participants and enable them to improve their life despite the numerous challenges and work stress.
The speaker, Prof. Gupta, was introduced by CMA Sri Lanka Toastmasters Club member Kanagasundaram Sinduja. Prof. Gupta, the Chief Mentor at GiantStep (www.giantstep.in) from India, is an internationally renowned keynote speaker, a well-known social scientist, who could mesmerize the participants with his oratory skills and his awareness of Buddhist philosophy and its growing global relevance.
Following are among the key points discussed and deliberated upon during the workshop:
Emotional intelligence is one's learned ability to think constructively and act wisely.
Stress has become a global phenomenon and we need to accept it.
Self-awareness is the key to mastering emotional intelligence.
We all need to be aware of the five basic human emotions as described in the acronyms – FLASH – Fear, Love, Anger, Sadness and Happiness.
Every individual is gifted with inbuilt mechanism to face and overcome vicissitudes of life over which we may have little control. But we can always choose an appropriate response rather than react to the situation.
Emotional intelligence is all about becoming a victor rather than remaining a victim
To sum up, the workshop was a highly fulfilling experience and all the participants in their feedback expressed profound sense of gratitude to CMA and also it was interactive and the passion shown by the guest speaker from India was appreciated by all. The learned resource person from India thanked the people of Sri Lanka for their warm hospitality.
CMA Vice President H.M. Hennayake Bandara thanked everyone for the support extended and participation.