---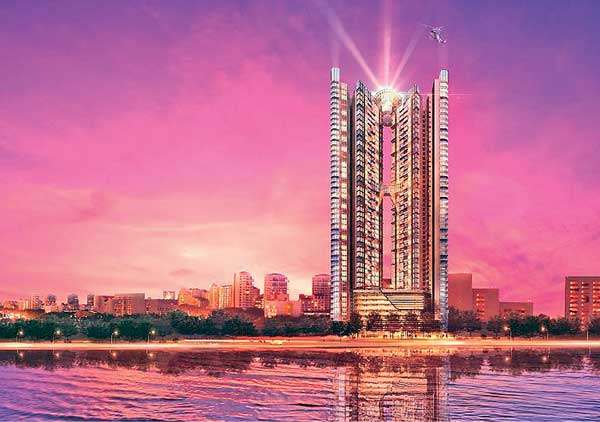 Blue Mountain Apartments together with global real estate titan Palmer and Turner group of Singapore launched the most luxurious and unique apartment complex in Sri Lanka
to-date, Achilleion.

The 7-star residence is set to offer unprecedented levels of luxury, innovation and exclusivity and its unique design concept has already won a string of international accolades. The development project will soon start its construction in the heart of Colombo 4 next to the shopping mall, Majestic City. The complex will be built on a land which is valued at Rs. 2.3 billion.

The project is simultaneously being launched in the UK where Achilleion is the main strategic sponsor of festival of cricket in London which is the largest gathering of Sri Lankans in the UK.
The design of the property has already won awards in the 'Residential Interior Show Home' category, the 'Luxury Show Apartment' category, the 'Condominium' category and the 'Residential Development' category at the prestigious Asia Pacific Property Awards 2016/2017.

Ideal for homeowners seeking a high ROI on their investment, Achilleion will also offer the discerning home owner, cutting edge facilities, which have been incorporated into the property's iconic design. In order to ensure that residents always travel in style, the complex will offer access to Sri Lanka's first residential helipad and a private helicopter.

A fleet of 5 Mercedes Benz luxury cars will also be available for residents to use at their leisure. Achilleion will also feature Sri Lanka's first ever sky bridge, the tallest sky restaurant by sea and an infinity pool, which will offer breath-taking views of the Indian Ocean and the vibrant Marine Drive stretch. Other facilities include a 24-hour medical centre – the first of its kind to operate in a private residential complex, a comprehensive libraryand a private theatre. The property's interiors have been designed by Singapore based design practise, Index, and offer chic sophistication and modern elegance.

Commenting on Blue Mountain's newest apartment complex, Dr.Hiran Hettiarachchi – Group Chairman of Blue Mountain said, "Achilleion is a real estate development that will set the standard for ultra-luxury apartments in Colombo. The complex offers absolute exclusivity and includes many facilities, which are being used in a residential development in Sri Lanka for the very
first time.

"This property has been designed to meet the lifestyle and aspirational needs of high nett worth individuals, business leaders and investors, who seek a truly luxurious home in a central and prestigious location. Each apartment is an opulent, well-equipped and beautifully designed space that offers residents the chance to enjoy resort style living with access to all the modern amenities and comforts. Additionally, the property is conveniently located in the heart of Colombo, in close proximity to all commercial complexes and trade centres as well as shopping and entertainment locations."

Blue Mountain Apartments focuses on delivering innovation and modern design that adhere to the highest standards of construction and safety in the industry. The company has a proven track record and is supported by a highly qualified team who operate from 16 branches across the island. Renowned as one of the country's most reliable real estate companies, the Blue Mountain Group has diversified operations that extend across the areas of land sales, apartment developments and construction.