---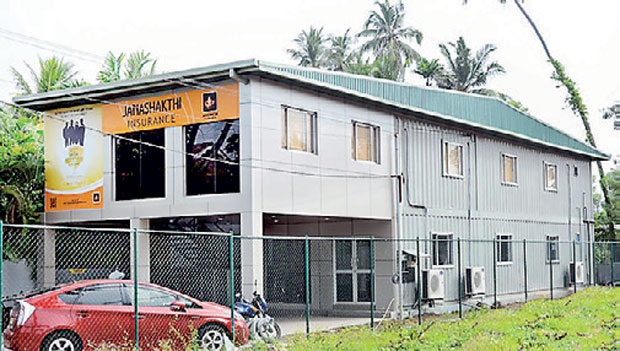 With the industrial expansion taking place in the island, the demand for commercial office space in the heart of Colombo has been growing steadily over the years.
With a burgeoning economy, rise in entrepreneurship and the entry of foreign companies, office space across the island today comes at a premium with Colombo experiencing 95 percent occupancy in the sector.
According to a report by international property firm JLL, the demand for Grade A office space in Sri Lanka is 3.8 million sq. ft. but existing supply is only at 2.3 million sq. ft. The gap between available space and demand is only going to expand further and it will be years before developers will be able to bridge it.
Advantis Engineering, a pioneer in converting marine containers to usable work space, can solve this problem with their convertainers in far less time and at a competitive cost whilst providing an environmentally friendly building.
Convertainers are marine containers that are converted into an office space fitted with all the modern amenities. This is not a new concept and has seen wide global popularity in recent years, however, to meet the space needs of businesses today single unit containers will not be sufficient.
Realizing this growing need for space by startups and large corporations alike, Advantis Engineering have since expanded their expertise and now providebuilding complexes through Convertainers. In addition to their regular Convertainer products, the company has completed more than 15 complex building projects since 2014, stamping their leadership in the sector.
The most recent of these is to a prominent international organization in the health sector which had to change locations within two months and required a large office space to meet the needs of their growing team. Advantis Engineering was able to provide this organization with a 3200 sqft, two floor building made up of 16 convertainers with all the amenities of a modern office building within a short span of just 45 days. In addition, the convertainers were fitted with an external padding to give it the look of a more modern building.
Another recent solution was to a leading insurer that needed to open a branch in Panadura to provide their customers with ease of access to their services. Advantis Engineering was able to provide a 3000 sqft, two floor building made up of multiple containers within 30 days. To meet the sustainability regulations of the company, the building was also fitted with solar panels and rainwater harvesting units.
These examples highlight the highly customizable nature of convertainers and their modular aspect means future additions can be done easily without disruption to ongoing operations.
The convertainers conform to ISO quality standards and have a lifespan of 25 years with Advantis Engineering providing all after sales services and maintenance.This cost effective space solution is applicable to hotels, restaurants, apartments, showrooms, hospitals andcafés as well.
This highly innovative solution will help businesses expand more easily and get a return on their investment in a shorter period of time thus allowing Sri Lanka to compete on the global stage. The company is also the largest exporter of Convertainers from Sri Lanka,supplying to countries such as India, Maldives, Thailand, Bangladesh, Nepal and Africa.
Advantis Engineering, a fully owned subsidiary of Hayleys Advantis Limited, has constantly strived to provide innovative accommodation solutions for a wide variety of industries. Operating with the latest technology applications, the company has expanded its service offering over the years, ensuring that the best of mobile accommodation solutions are available right here in Sri Lanka.
It is also the only company in Sri Lanka that is operating with a fully-fledged sheltered manufacturing plant for container conversions spread across a 12,500sqft area.