---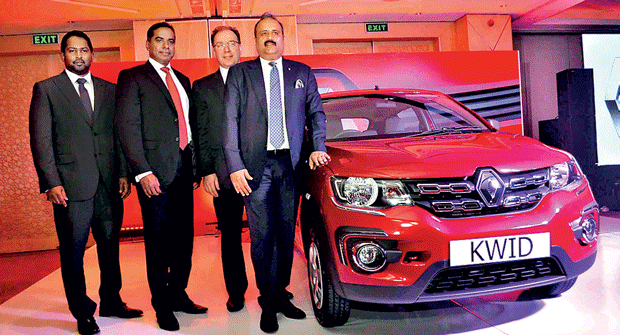 AMW Private Limited Director - Passenger Vehicles Yohann De Zoysa, AMW Private Limited Managing Director Samantha Rajapaksa, Renault India Vice President Sales and Marketing Treguer Rafael, Indian Subcontinent Operations Group Renault Managing Director and Country CEO, Sumit Sawhney, standing from left with the Renault Kwid
Pix by Waruna Wanniarachchi
By Zahara Zuhair
Associated Motorways (AMW) announced the partnership with Renault, a well known French automotive brand, by officially unveiling Renault Kwid and Renault Duster to the Sri Lankan market recently.
Taking through the features of the Renault Kwid, AMW Private Limited Director - Passenger Vehicles Yohann De Zoysa, said that it has got a SUV design and large exterior dimensions which is lager than the any of the products available in the market today.
He said it has a boot space of 300 litres extendable to 1115 litters , efficient drive train, low friction engine design and technology wise it includes bluetooth connectivity, satellite navigation etc.
Renault Duster on its part has more than 32 new changes in engineering, styling, safely and comfort features, the company said.
AMW Private Limited Managing Director Samantha Rajapaksa said that he is confident that the attractive line up of the Renault products would make a bold impact on automative landscape in Sri Lanka.
"With this launch, the customer centric business philosophy of AMW, expects to give an unique experience to Sri Lankans," he said.
Indian Subcontinent Operations Group Renault Managing Director and Country CEO, Sumit Sawhney said that the motto of Renault is 'quality first' and it is a global product which is known for innovation.
Giving priority to the Sri Lankan market he said that after India, Sri Lanka is the second country to have this products.
"Sri Lanka is important for Renault's growth in South Asia. It is clearly projected that by 2020, subcontinent will be the world's third largest market for automative products," he said.
He said through this entry they will see the Sri Lankan market and after that they are looking forward to introduce a wide range of products step by step.
"Renault is a leader in electric cars in Europe. This is a global car which is going to meet all the global requirements, a completely future ready product from our side," he further added.
Mirror Business learns that the price of the Renault Kwid is Rs. 2,095,000 million upwards inclusive of the recently increased tax. And the price of the Renault Duster was not available at the day of the launch as the product will be in Sri Lanka in a months time, the company said.
In addition, AMW also provides financial solutions through AMW Capital Leasing.
Furthermore, Renault have had 2.8 million sales globally in 2015, the company noted.
Renault has a history of 118 years in the automative industry and it was noted that the first car ever to be filmed was a Renault.