---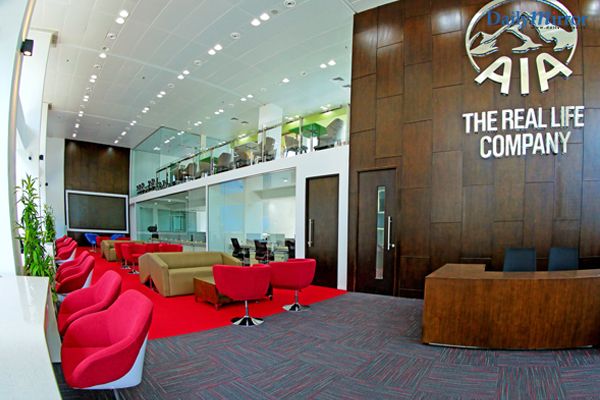 AIA Insurance is proud to announce its brand new Head Office building, the AIA Tower, located at 92, Dharmapala Mawatha, Colombo 07. The move to the new building, signals AIA's deep commitment to further expand its growing business in Sri Lanka.
The AIA Tower is a contemporary, 12 storey office building, which, for the first time, allows all of AIA Sri Lanka's employees based in Colombo the opportunity to work together under one roof. Gavin D' Rosairo, CFO and project leader for AIA Tower, said "The move creates greater synergy between functions. This will of course help the growth of AIA's business".
AIA Tower is also home to the 'AIA Sri Lanka Academy', a world class training centre for Wealth Planners and Bancassurance Executives, which allows AIA to provide its people the highest standards of local and international training programmes.
Equipped with modern infrastructure, brand new furnishing and Wi-Fi connectivity throughout the building, the AIA Tower offers a significantly improved workplace for employees. The new offices also include 'The Lounge', a coffee shop especially designed to encourage fellowship over a coffee break or to have meetings. The cafeteria offers subsidised meals with added convenience to employees and has a robust menu of healthy food options, to make it easy for employees to eat healthy. The rooftop offers a spectacular view of Colombo and has been designed for hosting events and celebrations.
"As a company that has been recognized as a Great Place To Work® for five consecutive years, we are always looking at how we can improve the work experience for our employees" said CEO Pankaj Banerjee. He added "we are proud of our new premises, complete with great facilities and located at the heart of Colombo. I'm sure that our employees will be very happy here and the enhanced productivity from this will help take us to greater heights."
Chairman AIA Sri Lanka/ Regional Chief Executive Bill Lisle stated that "this significant investment is a clear reiteration of AIA's commitment to staying in and growing in Sri Lanka. The new building is reflective of AIA's commitment to helping people live longer, healthier and better lives, starting with our employees, who are our most important asset".