'Justice for Wasim Thajudeen'
In a social media page named 'Justice for Wasim Thajudeen', Asfan had made the following comment: " As his brother and on behalf of the family I humbly request that you refrain from using his name and pictures of him to make accusations in regards to his death. Please consider the consequences us, as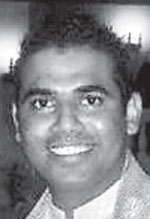 the family has to deal with when these accusations are made. We genuinely do not believe that there was any foul play in regards to his tragic death and so far not one piece of evidence has come up to prove otherwise.



"In a social media page named 'Justice for Wasim Thajudeen', Asfan had made the following comment:"


The family has to deal with the loss everyday of our lives. Our parents are finally learning how to live with this loss after accepting that he's gone. These accusations and assumptions and a possible ordeal of another investigation is only going to impact very negatively on their progress and I very humbly ask you all not to continue with this. We all loved him dearly and now he's gone, let us accept it, cherish his memories and let him
rest in peace".