---

This budget has hit the root of the proletariat. Not only the wage increase is totally insufficient to balance the heavy price increase but also the terrible rise in goods and services tax has created a near unbearable situation. Day by day they see the effect of this terrible situation. Even the professionals, who had a reasonable existence, now are desperate to balance their domestic budget. The government has bridged the budget by making it impossible for people to make ends meet. We hear this complain every where we go. In roads, buses, post offices, markets, where ever people gather strangers start talking to each other like good old friends, on this subject. It has become an opening for making friends! So many jokes and yarns are spun to arrest the pain of rising prices.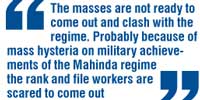 In fact presently the most popular thing to do is to crack jokes at rising prices. Can these humorous remarks be a beginning of mass agitation as it happened in several countries in the Middle East? But in such countries, we are told that there were no political parties and the rulers were not answerable to the parliament or the media. However does that matter so much when the Parliament is bound by throttling amendments such as 18th amendment to our Constitution. On the other hand corruption is so high and the election law is so contradictory we find that the 2/3 power in the Parliament can be fixed by the sitting president. It is possible to offer portfolios or direct bribes in kind, vehicles , development projects, welfare funds etc. and that can be used to build a 2/3 majority in the Parliament. Further more those who are accused of corruption and criminal activities could be attracted to the government side by getting them relief through political power. This means that the judiciary could be subservient to the politicians. Already people mention in close discussions names of engineers, civil servants and doctors who have got into sudden alliances with the regime in order to get undue promotions and positions.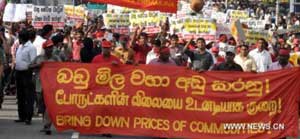 However, now trade union leaders and mass action oriented peasant or fisher-leaders do come for opposition meetings. Still, the masses are not ready to come out and clash with the regime. Probably because of mass hysteria surrounding military achievements of Mahinda regime the rank and file workers are scared to come out. On the other hand Mahinda has a history of mass action when he was in the opposition and maybe masses are unable to forget the image he created in their minds. I remember in1992; we were campaigning against state terror aimed at suspected JVP rebels, while at the same time we protected our selves from rebel attacks.

We were protesting against abductions and lawless killings, since early 1989. On July 01, 1992 we organized a Janagosa with Mahinda and others. In Kandy with other Sama Samajists I led a procession of about 500, largely parents and family members of the disappeared. Eight of us were taken into custody by the Kandy police. One of them was Upali Lewliyadde, then a police officer assigned to me for protection against Sinhala chauvinist killers! Such incidents took place throughout the country. Mahinda established his image as an action man for the oppressed from such events. It will take more time for the people to see the transformation of Mahinda.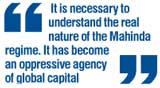 One important task today is to get the people to participate in discussions. It is necessary to understand the real nature of the Mahinda regime. It has become an oppressive agency of global capital.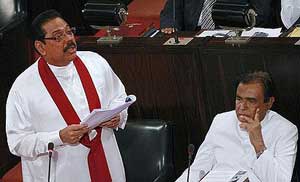 The so-called war for liberation completely turned the tables. It was not a war against an organised military intervention of alien power, though that was how the government leaders explained.

Later it goes to the extent of stressing that the Tamil rebellion was planted in our soil by western powers. Imperialism wanted to undermine the popular front rule hence they designed this horrible terrorist intervention here! However what took place is clear and more and more evidence emerge to consolidate the truth.

The main power behind their struggle was anger against national oppression. Mahinda aligned with India and global powers to crush this local rebellion and with that, enslaved himself to those powers. That is how the action man in the streets became an oppressor of the masses.

---
---
Add comment

Comments will be edited (grammar, spelling and slang) and authorized at the discretion of Daily Mirror online. The website also has the right not to publish selected comments.

---