---


In 2013, Sri Lanka earned close to US$6 million exporting 50,000 metric tonnes of rice on the back of a bumper harvest during the year producing 4.6 million metric tonnes. In March 2014 we donated a further 50,000 metric tonnes of rice to the United Nations World Food Programme appreciating the organisation's support to Sri Lanka during previous less bountiful years. Paddy harvests have grown close to five per cent on an year-on-year basis over the past few years offering price stability to consumers and farmers alike.

Six months later, at present, the situation is rather different. Production is at a low and prices have nearly doubled averaging Rs.90 a kilogramme, with rice mills closing down for the want of paddy. As consumers struggled with skyrocketing prices, the government imported more than 100,000 metric tonnes of rice in June to stabilise prices and maintain supply.The CWE then sold rice out of mobile trucks at controlled prices to provide relief to consumers.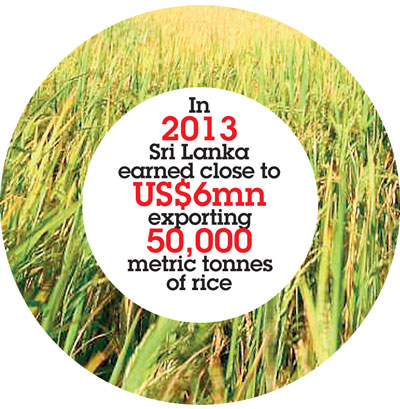 What changed our paddy fortunes in such a short space of time? Is it the result of bad administration, too much private sector intervention with farmers or the lure of alternate crops as alleged by some?

The answer evidently lies up in the heavens as Paddy Marketing Board officials and farmers from the North-Central and Eastern Provinces all looked skywards when posed with the question. Rain or the lack of it this year and the latter part of 2013 had impacted production in 2014 driving prices skywards. The UN's Food and Agricultural Organization (FAO) has estimated Sri Lanka's paddy rice production to decline to around 3.9 million tonnes in 2014, down about 16 per cent, while the Paddy Marketing Board points to a 40 per cent drop over the previous year.

In Galenbindunuwewa, farmer Ranasinghe Banda anticipates rain in early October, whereby he could begin growing in November. If there is no rain, then he is dependent on water from the Mahaweli scheme - which again depends on rainfall in the Central Province. The rains are coming down on catchment areas at present and officials are hopeful they can persist with plans afoot to allocate 50 per cent of Mahaweli water to paddy harvesting in the months ahead. Else, we can anticipate further imports during the first six months of 2015 and further lowering of import taxes to control prices. Recently, rice traders blamed the price hike on rice millers holding a monopoly of trade,and also on the beer industry -- claiming that bulk purchases of rice by brewers had pushed prices up. On the impact on rice price by brewers, the Paddy Marketing Board states this was far from reality and went on to state that the involvement of the breweries was good for the industry. Brewers take up less than one per cent of the total national production and consumption, and such uptake bodes well for the years when there is excess in the market providing an outlet to farmers.

Private sector involvement as seen with the breweries has been beneficial for the sector and the Board is encouraging others too to get involved to add value and provide stability to farmers. Private sector intervention has presented significant improvements in production methods and yield, as farmers supported by such input increased the crop by almost 60 per cent, with the added incentive of sustainable buying options.

However, problems do persist with rice millers continuing to push down the purchase price of paddy from farmers, resulting in significant lack of returns in addition to creating artificial shortages to drive prices up, said the Board officials. Millers have also begun purchasing paddy soon after harvesting despite a high presence of moisture, impacting quality and the price. The Board expressed serious concern over farmers getting used to this alarming trend, which allows millers to add a premium claiming the need for electric dryers and impacts longevity for storage. "The problem lies with three to four large-scale millers; they buy significant stocks for competition, so quality and price have suffered as a result," the official said.

On the other hand, farmers have also turned to alternative crops like onions, tobacco and chillies which consume up to seven times less water than paddy and also provide high returns.

The need then perhaps is for a national policy and an independent body to monitor end-to-end production. A clear formula on production, resource allocation, distribution and pricing. A national agenda which will set targets and a concerted effort to drive implementation at ground level through an empowered department of agriculture. A plan that will make Sri Lanka bountiful and encourage export earnings from rice and other value-adding crops.

No! Our officials at the Paddy Marketing Board shook their heads. "All this is dependent on the weather, without a proper mechanism to forecast what's coming, even the best laid plans amount to nothing," they declare. This is commonplace in the agriculture sector, we have good years and then the occasional year we all wish to forget, 2014 is just another one of those years!

Rain or sunshine, policy and planning are still required to save the day – or, the year. In addition to engaging farmers on crop planning, best practices and marketing, it is essential for a policy to be put in place – and implemented – to guarantee price stability to farmers. Reducing harassment at the hands of millers and ensuring pride of place and rights of farmers is critical to safeguard the sustainability and productivity of our agri-based economy. Furthermore, authorities could improve policy and process on water conservation and distribution for agricultural purposes. With less pressure on hydro power to support the national grid, a carefully laid plan to conserve water in reservoirs for agricultural purposes in the years ahead may help overcome difficult years like 2014. The private sector has successfully helped improve farmer yields; we also need to consider the possibility of encouraging those companies who hold agriculture and sustainability close to their hearts to provide further impetus to deliver results in water management as well.

Years like 2014 have happened before and will happen again, but managing its impact is something within our reach.

(The writer is a planter by profession with extensive experience in the tea, coconut and paddy sectors island wide. A former Agriculture Research Assistant, Perera serves as a consultant with a number of private sector corporations and agricultural entrepreneur)programmes in the country.
---
---
Add comment

Comments will be edited (grammar, spelling and slang) and authorized at the discretion of Daily Mirror online. The website also has the right not to publish selected comments.

---