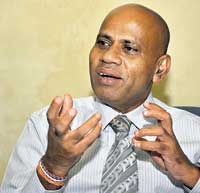 K. Gamage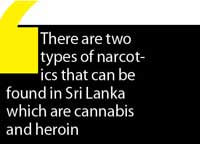 The rate of new drug-users in Sri Lanka is falling said K. Gamage, Executive Director of National Dangerous Drug Control Board (NDDCB).
"There are two types of narcotics that can be found in Sri Lanka which are cannabis and heroin. According to the statistics we have that there is a clear reduction in the number of users," he said.
He said these are common not only in Colombo but most of the coastal areas. Unlike earlier it is impossible to differentiate in which class the usage is more common as people are much more connected with the development of technology, transport and media. Out of the people who use drugs, the majority are males. The female drug users are made up mainly of sex workers.
The children tend to experiment with narcotics as they associate with same aged 'peers' and attend tuition classes.
"The school children are a targeted market. They are the people who like to experiment and like to experience new things. Sometimes due to peer pressure they tend to experience. Most of the children attend tuition classes today and in most of these places children are unsupervised," Gamage said.
The Executive Director stated that the exports of the drugs are controlled so the addicts have attempted to find alternatives. Usage of cough syrups is the best example. But that too is controlled at the moment.
He said that it is important to educate society, especially school children about the consequences.
He also stated that it is essential to reduce the number of relapses. "40 per cent of the people who are rehabilitated tend to use these again, which we call chronic relapse brain disease. Society has to help them. Although they are rehabilitated sometimes society labels them and shuns them to an inferior position. Since the rehabilitated person lacks the acceptance from the society he tends to get back in to the narcotics, thinking that it is the only answer," said the Executive Director.
He stated that there must be strong family relationships, spiritual development, social integration and occupational therapy for a person who is addicted to overcome from the addiction.