---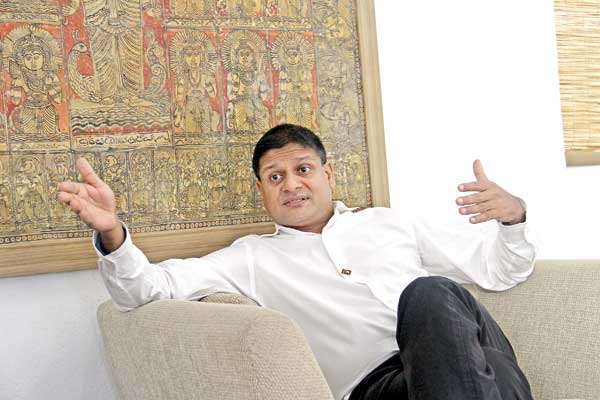 Dilith Jayaweera, Managing Director of Triad Advertising, and an individual who has been at the centre of controversy during the past decade or so from time to time, spoke to the Dailymirror on many issues relating to him and his relationship with the former regime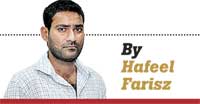 Mr. Jayaweera how badly do you miss the Rajapaksas?


Yes. But in a different context and not the same context under which many do. I am an ardent nationalist. I come from a village, I went to St. Aloysius College Galle, but I come from a village. My father was a government servant and my mother a teacher. So my background is a bit different from that of some of these people in Colombo. I must tell you my background, for you to understand where my thinking comes from. My father was a socialist and I was greatly influenced by those ideals. During my childhood I read Gorky and Tolstoy and of course Das Kapital. So I was influenced by this thinking. I am a politically sensitive person because of my background. Till I completed my Ordinary Level exams I believed that socialism was the way forward. In fact I have attended the 'Five classes' of the JVP. But having said that, in 1984 my brother had obtained admission to the Medical faculty and I was destined to become a lawyer. I came from a family of government servants and they obviously wanted the traditional careers of Doctor, Lawyer, Engineer and Accountant combination for the four of us. So I was to be the lawyer. I then selected the Arts stream for my Advanced Levels and I was exposed to a lot of Sri Lankan literature. I did Buddhist civilization as a subject, and I read a lot about Buddhism and its philosophy. When I was studying Buddhism, and parallel to that Sinhala and English literature I found that there was a major gap between Buddhism and Marxism. Marxism talks about a material philosophy whereas Buddhism says that despite the material belongings one has to achieve contentment. That happiness is within and not without. Parallel to this, I was exposed to the nationalist ideology from people like Gunadasa Amarasekara and Nalin De Silva. When I was an Advanced Level student there was a lecture by Prof. Nalin De Silva about the art of science and I was influenced by these. It was then that I studied nationalism as an ideology. One has to love one's country and one owes his life to the country that one is born in. That is where my support for Mahinda Rakapaksa stems from. If you go back to my university days, I was specifically told by my parents to desist from getting involved in politics, because during my school days I was pretty much in the thick of it. During my first year at the law faculty I did not get involved in anything. That was the time of the JVP and universities were not functioning properly. But we listened to Gevindu Kumarathunga and Prof. Nalin De Silva's lectures at the Science faculty. My attraction to nationalism was sealed during this time. That's the angle from which I always looked at Mahinda Rajapaksa. There was a war, and many thought it could not be won.






So what was your political ideology since 1994?

From 1984 to 1986, while questioning socialism I was…





No, after 1994 during the Chandrika Bandaranaike regime?

I was apolitical. My beliefs were different though. I believed that this war could only be finished militarily. It was terrorism and one had to eliminate it. I saw Mahinda Rajapaksa as a leader from those days who could do this. I saw him at Jana Goshas and Jana Pawura and he, to me, was the leader who could do this.





But isn't there a fundamental flaw in what you are saying?

What is it?





MahindaRajapakasa had always been on the lines of a federalist till 2005.?

Yes you are right. There are many articles that have been published on this. Whether he was federalist or not is a different matter but he had got close to people who believed in it. But for a person like me who looked at it in a philosophical perspective, I saw Mahinda Rajapaksa being a suitable person for the purpose. This was the discussion. There was a magazine called Kalaya at the time headed by Ven. Maduluwawe Sobhitha, Gunadasa Amarasekara and others and I put him ( Mahinda) in that perspective with the bit of political knowledge I possessed. I used to like him.





So coming to 2004, how did you get involved in the campaign ?( of the UPFA)

Well, we had a policy at Triad that we wouldn't be doing any political campaigns. In fact Prof. G.L. Peiris my teacher approached me once, and we declined it. The Triad Philosophy was to build local brands and we exclusively did local advertising. But in 2004, if I remember right when the then President dissolved Parliament, we were approached by Madam Chandrika Bandaranaike. I didn't know her then and I first met her with the Raj TV people whose licence we carry as Derana now. That was my first meeting with her. She got to know us and at that ( Raj TV) presentation she got to know that we were an advertising company. She approached us through Dr. Tara De Mel. At that moment it sounded like a challenge to me, so I liked that challenge but I had a chat with my partner Varuni who said that 'we haven't done it all this time why now?' Then we had another partner Rohan Rajarathnam who also said the same thing. Then, one day when I was told that the other people who were around her ( CBK) had spoken dismissively of our ability to do this campaign - because they had been in touch with an international ad agency called Sachie and Sachie - it was a professional challenge. Then again, I spoke to Varuni and told her that we should take this on, because the results could be seen in a short time unlike a brand for which results took time. We were only 9 years old as an agency and we approached her and asked her (CBK) to give us the campaign. I immediately told another colleague of mine to contact the guy who did the BJP's ' India Shining' campaign which was a very famous one. We managed to locate the strategist, Mr. Sushil Pandith, who was working for a company called Hive. We met Madam Bandaranaike and we did a presentation to her, he brought in the regional perspective and I brought the local perspective and we were selected over international organisations. That was the first campaign we did called the ' Rata Perata' and it was a very successful campaign and brought a lot of professional happiness.





When did Mahinda Rajapaksa come into the picture?

Yes so then in 2005, I didn't know Mahinda Rajapaksa. When we knew that he was to be the candidate I was very happy. Finally I thought this was the man we wanted. I was trying to approach him but I really didn't have a contact to approach him. Strangely Mr. Dallas Alahapperuma who came from abroad called me and said that he was aware that we did the ' Rata Perata' campaign and wanted me to come and meet him. We had a meeting at the JAIC Hilton and I said I would love to do it because I believed in this man. Then I spoke to my partners and they were not too sure about it. But they ( The MR campaign team ) decided to give it to another agency. However, halfway during the campaign - 34 days prior to the election they approached me. Mr. Basil Rajapaksa came and saw me at my residence, and by that time I had lost interest. They had launched their campaign called ' Dinawamu Lanka'. I didn't believe in that campaign and knew there was a major strategic flaw in that campaign so I refused. But then the whole team came and met me and then we met again at Minister Mangala Samaraweeras residence. It came to a point where I couldn't say no, but I told them that this was a massive challenge. I am scientific in my approach so we needed all the research data which we didn't have. It was not Triad as an agency who did the campaign . I only used some resources and did it without a fee. I designed the tag line ' Aluth Sri Lankawak' and Lotus was also my design. We did a super campaign, which was strategically focused and ultimately successful.





What went wrong this time then?

This time they didn't want me. In 2010 we handled the campaign and came up with the concept of 'Suba Anagathayak'. By this time many other people had become closer to the government. So I don't think they saw the need for me. I have nothing to hide, but I saw the problem in this. I volunteered to come and explain the issue to them.





Incumbency fatigue. A campaign on in these circumstances had to be much more scientific and organized. You can be the best, but after 10 years you have to re-launch. Why do you think brands re-launch? Because the consumer needs a fresh perspective. One day I went to explain this to them at Minister Keheliya Rambukwella's residence and I was literally chased out by Minister Basil Rajapaksa. I didn't have a very good relationship with him throughout, we both didn't believe in each other I think. So when I was even trying to explain the issue and called for a more scientific approach, he was not willing to listen to me.





Where did you come into contact with Mr.Gotabaya Rajapaksa?

I consider him to be a friend now than a client. I didn't know him, even during the election campaign I hadn't met him. Triad became the number one agency at that time. Mr. Bandula Jayasekara was the Editor of the Daily News and was at the audience and he wrote an article in the Daily News about us. He had asked Mr. Jayasekara if we could be introduced. I went to meet him, and his request was very simple. He asked if we could do free of charge advertising for the Forces to fill in vacancies. Those days they called for applications with the usual 'Abarthu atha' (vacancies exist) sort of adverts.

He said that he had seen some beautiful ads in the US newspapers when they wanted to recruit people to the Military. But when he gave us the brief we realized that there was a lot more to it, than a 'vacancy ad'. We realized that we should build the image and we did a lot of research and went and met him.
When we spoke to him he readily agreed to our proposal and said that the problem was the image. Desertion was at a very high level at the time. We gave him a solution and that we would do an overall campaign, but he said that he didn't have the money to spend. We didn't mind that. Then we came up with the 'Api Wenuwen Api' campaign which was my brainchild. It was my brother who was the inspiration for this - he is a Doctor in the Air Force. We came up with a theme song and converted beautiful ads off that and it was a massive success. He became very close to me during that time, I guess he understood that we were very patriotic and readily available. So he used to ask for my support for different things. I remember once he wanted me to meet General Fonseka and iron out differences he had with Admiral Karannagoda, because they were not on talking terms. That was one issue. So we did everything possible for the soldiers each time he wanted us to. We readily gave him the support that he needed. He is an exceptional human being, he in fact changed the way I looked at life in some areas.





To get to the real questions, everyone knows you were a supporter of the Rajapaksa regime. Do you condone some of the things they did?

Not at all. If you ask me if I agree with everything they did? No. But I supported them to end the war and there were some positive economic policies. But some of these decisions that they took were not good





I was openly critical of Dr. Jayasundara. It was I who got the book 'Confessions of an economic hit man' translated because I actually thought that he was an economic hit man. But now of course I think a bit differently.





No, that wasn't.





What were the other issues?

The way they handled the people around them was an issue. To tell you the truth I was not a frequent visitor at Temple Trees, I never did government tenders, or government business nor did I use my influence for personal gain, ever. But there were others who did.





But do you agree that there was a major issue with regard to the regulatory framework in many institutions of the country and the massive deterioration of the rule of law?

Of course I agree with you a 100 percent. I am a lawyer by profession and I was sad to watch the way they handled certain things. I was vociferous with my criticism and this was when they were in power - not when they were out of it, that's not my style.





So then you were not listened to? You just told us that they were close friends of yours.

Among the very few times I have had a private audience with the President, I had always met him for an issue of national importance. Never for my benefit or my businesses. I, in fact, made sure that we didn't discuss unnecessary things with him. So for example, I met him and raised concern when Mrs. Shirani Bandaranaike was to be appointed. Because with my little knowledge I thought that she had too long a tenure. I thought it could become a problem for him and the country. But then, when she was to be removed I told him that it would not be approved by the people. My own conscience told me it was wrong. I had a meeting with Mr. Weliamuna and even wanted to meet the lady ( Dr. Bandaranaike) to try and find a solution.





But how is Dilith Jayaweera, this local businessmen, at the centre of all things controversial always?

Because I am not a conventional businessmen, I don't want to be one. Money has never given me happiness and it never will. I run this organisation ( Triad) not for profit maxmisation but because I want to achieve. That is my drive. I wake up in the morning thinking I must achieve something today. Also, I am politically very sensitive and I believe that people like us should not limit ourselves to making money.





There were two instances in the stock market, where the regulators resigned during this period. This was including the wife of the Secretary to the President no less. You have been singled out, among others, as the reason for the pressure that led to their stepping down.

Its all about perception, but the truth is very different. I admire Mrs. Sugathadasa and her qualities and she gave leadership but she had certain weaknesses.





I am talking about you as an investor here, not as a decision maker running these bodies...?

No it's from an investor's point of view that I saw these things. As an investor I saw that she was making some statements to the media as a Non executive Chairperson of the SEC. I used to tell this to her and was very open about it. There was one article carried in your newspaper under the title 'the Stock Market can fall at any point'. That's not good coming from the regulator and could have had a negative impact. But I will tell you, that I did not get involved at all (with her removal). In fact I think that she is still suitable to hold that post.





Do you think that about Mr. Thilak Karunarathne?

It's the same.





But you know that we were told that President Mahinda Rajapaksa upon instructions by his son, fuelled by a request from you, had specifically asked him ( Thilak Karunaratne) to step down. Do you condone this?

No that is not the truth. Mr. Karunarathne and I knew each other. When the market was going down I was also concerned. I think the stock market is a litmus test on the countries economy. So we have spoken to each other on these issues, through the phone. I even met him once at his office. I like him as a person, and always thought him to be a genuine and honest person. When the market was going down, the brokers' association approached me and asked if we could put their grievances through to the President.





Was it your persuasion that led to his removal?

No no that's not what happened. The brokers' association had approached Gamini Senarath and got time for a meeting with the President. Infact Mr. Karunarathne called and asked me about this meeting and if I was invited. I said I was not. I was very upset that I wasn't invited because I also wanted to give my side of the story. Then I spoke and sorted a presentation to be given, and I told Mr. Karunaratne about it, and I even asked him if he wanted to see it beforehand. So the meeting was on with the President and I made the presentation about the stock market. I only spoke about how careful we should be and what the media had done during that time. It was also indirectly directed at Dr. P.B Jayasundara, but I had to show some of the interviews given by the regulators. I didn't do it behind his back.





Wait this is an important issue that needs to be clarified. I was an eyewitness to this. So after the presentation, the President asked Mr. Karunarathne as to what he thought of what I said. I didn't realize that he ( Mr. Karunaratne) was upset. Mr. Weerathunge also must've been a little hurt because I showed some of the articles that appeared in the newspapers during this time. So Mr. Karunarathne said that he did not agree with what I said and said something to the effect that 'the stock market is a complicated thing and you don't know'(to the President). I don't see anything wrong in what he said because it was natural for him to say that. But I think what ticked the President off was when he said something to the effect that 'You ( MR) didn't know'. He (MR) got really angry. He just pushed the chair and walked out and went to another room. Then Dr. Jayasundera and a few other people had to go inside and calm him down. I saw the body language at the time and I knew everything wasn't right. Because I think the President got hurt. The rest is history, but that's all I know.





Story is that the investigations against you and others were launched and then he was removed?

No I can categorically say that there was nothing against me. The only investigation they had was with regard to Citrus rights and warrants issue. There we volunteered to give the information, and it was a very small issue although the media tried to make it a massive issue. They were questioning how - Dilith, Varuni and Sarva - the new Directors, had called for a rights issue in the first board meeting. That was all.





There is no investigation against you right now ?

Right now, there is nothing against me.





But even the Prime Minister in Parliament said that..?

I don't know how it happened and I am very sad about it. The two Companies that he is talking about - Colombo Land and Reefcomber or Citrus - there are no investigations against us. Probably an official had given him that information but it's wrong.





Questions on allegations regarding the stock market and other issues, could be viewed in full on video