---
There will be many to praise cricketing legend Mahela Jayawardena's silky cover drive or the crafty glance as he retired from the test cricket arena with 11,814 runs averaging just below 50. Coaches will no doubt ask their students to watch footage of Mahela playing his strokes so as to fine-tune their batting technique. There will also be enough people to compliment Mahela for his fielding, particularly as a specialist catcher in the slip cordon. At the same time his temperament as a captain will always be remembered. Mahela is one of the most successful captains Sri Lanka has ever produced. As a captain he showed all the leadership qualities an ideal leader should posses -- being modest most of the time and being aggressive when the circumstances demanded.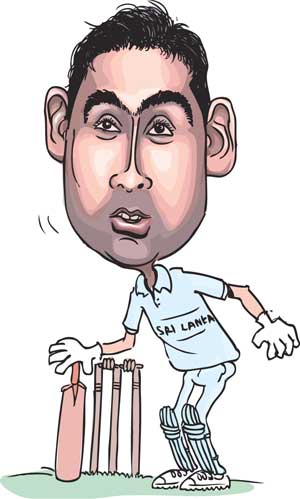 But is that all? Will Mahela be only remembered for his cricketing legacy? No. There is a special trait that Mahela has, which is as important to a cricketer as to a person who is involved in any other sport or profession. That is, doing the right thing at the right time. That is one lesson anybody could take from Mahaela's character apart from his cricketing prowess.

When the situation required runs Mahela scored them and when it was time to captain the Sri Lankan side, he did it committing himself to the job at hand a 100 per cent. When the time was right to step down from the captaincy, he did it gracefully, after taking Sri Lanka to World Cup final in the Caribbean, and gave the captaincy to his good friend Kumar Sangakkara, who also took Sri Lanka to a World Cup final and then stepped down following in Mahela's footsteps. When Mahela felt that it was time to retire from T-20 cricket, providing youngsters who could hit the ball hard the opportunity he did not hesitate to step down though it created a huge uproar among some of the Sri Lankan cricket administrators. And finally when it was time to retire from test cricket, Mahela was spot-on in selecting the two-test Sri Lanka-Pakistan series. Mahela couldn't ask for a better exit as Sri Lanka won the series, by beating Pakistan comprehensively in both tests. Mahela scored a half-century in his last test. Besides Sri Lanka's President came to watch the match and showed his appreciation for what Mahela had done for cricket in Sri Lanka.

Since it was the school holidays, almost every Nalandian was in the Sinhalese Sports Club ground to congratulate one of the best products of their school. Look at the timing. Mahela's mother was quoted as saying to a news website that her son's decision to retire from test cricket might have been prompted by his new-born daughter as he wanted to spend more time with her. This statement is a clear testament of how he prioritizes his duties.

Among the other few cricketing legends produced by Sri Lanka, Mahela stands out as he coped with his multiple roles as a cricketer, captain, son, husband and a friend and most of all a good human being with character and integrity. We wish Mahela all success.
---
---
Add comment

Comments will be edited (grammar, spelling and slang) and authorized at the discretion of Daily Mirror online. The website also has the right not to publish selected comments.

---