---

The diplomatic crisis between India and the United States over the arrest of Indian diplomat Devyani Khobragade has, on the one hand, underscored the need to brush the dust off the 1961 Vienna Convention on Diplomatic Intercourse and immunities and, on the other, exposed the self-centredness of the United States.
Reciprocity is a key principle governing diplomacy. If country A shows certain courtesies and offers extra facilities to country B's envoys, Country B is expected to reciprocate accordingly. Such reciprocity improves friendship among states and contributes to world peace. Reciprocity in diplomacy works negatively also. If country A declares country B's envoy a persona non grata due to what the host nation sees as behaviour unbecoming of a diplomat, the country B retaliates. The retaliation is diplomatic machismo or diplomatic muscle flexing which India is now doing.

Angered by the arrest of Devyani Khobragade, who was India's deputy consular general in New York, and the high-handed actions of the US officials in subjecting her to repeated strip searches, body cavity searches, swabbing and detention in a cell together with sex workers and drug addicts, India reversed its diplomatic vehicle on the extra mile it had gone to please the United States.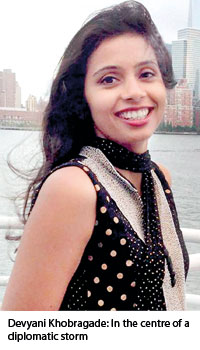 In keeping with diplomatic niceties, the US should have at least informed the Indian ambassador in Washington before the US marshal moved to arrest Khobragade. The absence of such niceties, irrespective of Khobragade's status as diplomat or consular official, points to arrogance.
Invoking reciprocity, India withdrew concrete barriers outside the US embassy in New Delhi and nullified diplomatic identity cards issued to US consular officials who are, like Khobragade, not fully fledged diplomats. In yet another move, Indian leaders including Congress Vice President Rahul Gandhi, Home Minister Sushilkumar Shinde and the Opposition Bharatiya Janatha Party's prime ministerial candidate Narendra Modi snubbed a visiting US Congressional delegation by refusing to meet them.

The Devyani Khobragade incident which, India's National Security Advisor Shivshankar Menon described as 'barbaric and despicable', was not the first time that India has been humiliated. In the past, India's former President Abdul Kalam, former Defence Minister George Fernandez and senior Indian diplomats such as Meera Sanyal and Hardeep Puri have been subjected to humiliating searches at US airports. On each of these occasions, India swallowed its pride and let the US have its way because it wanted to improve its strategic, nuclear and economic ties with the US. New Delhi even voted for the US-backed resolutions against Sri Lanka in the United Nations Human Rights Council, dismissing concerns that friendly relations with Colombo might suffer. To improve its prospects at next year's general elections, the Congress Party which has faced a series of defeats at recent state assembly elections is desperate to show it is no pushover when India's pride is at stake.

Khobragade was arrested on December 12 in public soon after she dropped her child in school. She faces charges of visa fraud and making false statements about how much she paid her housemaid.

She pleaded not guilty and was released on US$ 250,000 bond. Since then, India has moved her to its United Nations mission so that she can enjoy full diplomatic immunity and return home.
Under the Vienna Convention, all diplomats, including ministers, enjoy certain privileges and immunities. They are exempt from the host nation's criminal and civil jurisdiction, though diplomats are expected to comply voluntarily with the host nation's laws and regulations. If the host nation feels foreign diplomats have violated its laws or they pose a security threat or they interfere in its internal affairs, they may be declared persona non grata and deported to face legal proceedings or disciplinary action in their countries. Sri Lanka in the 1960s deported the Burmese ambassador after he shot dead his wife who had an affair with a Sri Lankan musician. In 1991, the Ranasinghe Premadasa government declared British ambassador David Gladstone persona non grata on charges he had commented on the election process and thereby interfered in the internal affairs of the host nation.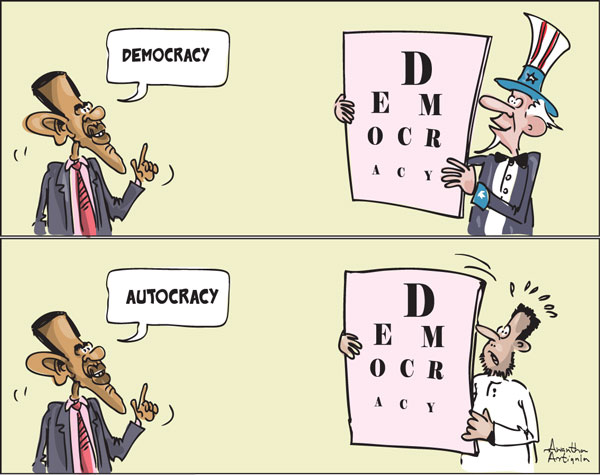 However, consular officials, who deal with matters related to visa, investments and tourism, only enjoy restricted privileges and immunities. They are not exempt from the host nation's criminal and civil jurisdiction. But actions they take in performing their official duties are exempt from the host nation's jurisdiction. India may interpret Khobragade's recruitment of a maid as an action that facilitates her official duties and therefore should be able to defend her.
Disputes of this nature arise because of grey areas in the Vienna Conventions of diplomatic relations and consular relations. The United Nations Secretary General should take an initiative to review the two conventions which are increasingly being observed in the breach -- with even the inviolability of diplomatic premises not being respected. The 1979 storming of the US embassy in Teheran by Iranian students, the killing of a British policewoman in a gunshot fired from the Libyan embassy in London in 1984, the killing of the US Ambassador in an attack on the US consulate office in Benghazi, Libya last year and many more incidents point to loopholes and weaknesses of the two conventions. They need to be rectified with the ultimate objective being improving relations among states and achieving world peace.

The Khobragade case has also exposed the United States' duplicity in diplomacy. The US has so far not apologised for the arrest of the Indian diplomat. It has only expressed regret.
"We take these allegations very seriously. We're not in any way walking back from those allegations or the charges," State Department spokesperson Marie Harf said adding that Khobragade case was "really a law enforcement issue".

But Washington reacts differently when its citizens or diplomats have a brush with a host country's law. One of the most notorious incidents where the US double standards stood out took place in Pakistan. On January 27, 2011, a US private security firm employee, shot dead two Pakistani youths in broad daylight in Lahore. Pakistani law enforcement officials arrested Davis and charged him with murder. The arrest of Davis triggered a diplomatic row -- with Washington insisting that Davis enjoyed diplomatic immunity, while Pakistan's then Foreign Minister Ahmed Shah Qureshi stood his ground saying that Davis was "not a diplomat and cannot be given blanket diplomatic immunity".

Reports said that Davis' name was not on the diplomats' list the US embassy had submitted to the Pakistani Foreign Ministry, but Washington hurriedly prepared another list, including Davis and describing him as a diplomat attached to its consulate in Lahore. As the spat continued, the then Pakistani government succumbed to US pressure and released the US mercenary following payments of compensation to the family members of the two victims.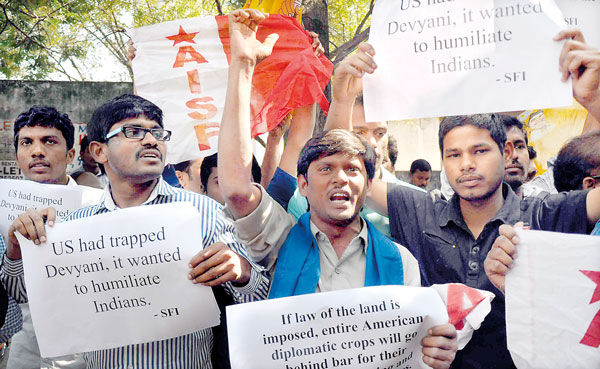 One cannot dismiss the Raymond Davis case as an aberration. US diplomatic misbehavior appears to be an institutionalised norm as is evident in numerous agreements Washington has signed with several countries. These agreements, known as Status of Forces Agreements (SOFAs), exempt US soldiers – and private security firm employees – from arrest by the host nation. The SOFA with Iraq has prevented Baghdad from arresting or initiating legal proceedings against Blackwater security guards who mowed down 17 unarmed Iraqi civilians in 2007 in a fusillade. In what Iraq saw as a travesty of justice, a US court in 2010 freed all those private mercenaries. "What are we — not human?" New York Times quoted Iraqi bank employee Abdul Wahab Adul Khader, who was injured in the incident as asking. "Why do they have the right to kill people? Is our blood so cheap? For America, the land of justice and law, what does it mean to let criminals go?" he asked.
In Afghanistan, where US soldiers and mercenaries have committed shameful acts of war crimes, President Hamid Karzai is refusing to sign a SOFA because he opposes giving immunity to US soldiers who will remain in Afghanistan even after the so-called US troop withdrawal by the end of December next year. Washington wants US forces deployed overseas to come under the legal jurisdiction of the US military – not Afghanistan's.

Keiko Itokazu, a member of the Japanese National Diet delegation which visited Washington in January last year to plead with US authorities to withdraw the US base in Okinawa said that as a result of the SOFA, which gives US troops immunity from prosecution in Japan, the Okinawa people could not protect a 12-year-old girl from being gang-raped by US troops in 1995 or seek justice for the crime. According to him, between 1979 and 2008, US forces in Okinawa caused 1,439 accidents (487 of them airplane related), and 5,584 criminal cases (559 of them involving violent crimes). The list includes fatal driving incidents, residential break-ins, taxi robberies, sexual violence, and other serious crimes against local citizens.

In addition to SOFAs, the United States has also signed bilateral agreements with several countries, including Sri Lanka, to protect its soldiers from prosecution in the International Criminal Court in The Hague.

A big power, like the US, should act responsibly and set examples in its relations with other countries. It should not chart a course of double standards in diplomatic behaviour. This is more the reason why the UN Secretary General must move as a matter of urgency to review the Vienna Conventions.
---
Order
Gifts to Sri Lanka
. See Kapruka's top selling
online shopping
categories such as
Toys
,
Vegetables
,
Grocery
,
Flowers
,
Birthday Cakes
,
Fruits
,
Chocolates
,
Clothing
and
Electronics
. Also see Kapruka's
unique online services
such as
Sending Money
,
Online Books
,
Delivery Service
,
Food Delivery
and over
700 top brands
. Also get products from
Amazon & Ebay
via Kapruka Gloabal
Shop
Sri Lanka
Order
Gifts to Sri Lanka
. See Kapruka's top selling
online shopping
categories such as
Toys
,
Vegetables
,
Grocery
,
Flowers
,
Birthday Cakes
,
Fruits
,
Chocolates
,
Clothing
and
Electronics
. Also see Kapruka's
unique online services
such as
Sending Money
,
Online Books
,
Delivery Service
,
Food Delivery
and over
700 top brands
. Also get products from
Amazon & Ebay
via Kapruka Gloabal
Shop
Sri Lanka
---
Add comment

Comments will be edited (grammar, spelling and slang) and authorized at the discretion of Daily Mirror online. The website also has the right not to publish selected comments.

---
---
---
Order
Gifts to Sri Lanka
. See Kapruka's top selling
online shopping
categories such as
Toys
,
Vegetables
,
Grocery
,
Flowers
,
Birthday Cakes
,
Fruits
,
Chocolates
,
Clothing
and
Electronics
. Also see Kapruka's
unique online services
such as
Sending Money
,
Online Books
,
Delivery Service
,
Food Delivery
and over
700 top brands
. Also get products from
Amazon & Ebay
via Kapruka Gloabal
Shop
Sri Lanka
---