---
The United National Party (UNP) should rise again. Not only should it rise again from its humiliating fall from grace at the presidential poll, but from hibernation the party leadership seems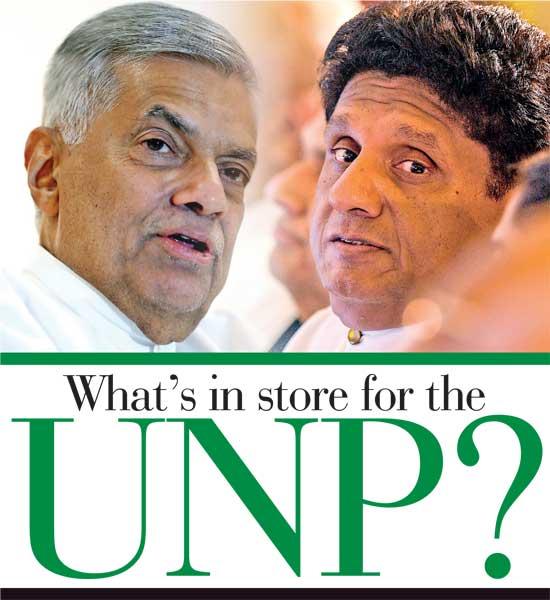 to have sought refuge in after November 17. The UNP should rise, but that does not mean we deem it the best or principled party to rule the country.
It should rise because the country needs a strong opposition.
Alas, party leaders reflected their weaknesses in facing setbacks after the presidential election. Did they thank those who voted for its presidential candidate Sajith Premadasa apart from him doing so during his speech at the Elections Secretariat on November 17 after election results were announced? Did they issue any statement to the people who voted for the party through the media, encouraging them to face the upcoming parliamentary elections?

Instead, they have started to fight, pointing fingers at each other for the defeat. Some party leaders are so frustrated over their defeat that they have openly said they were considering leaving politics. Former State Minister Harsha de Silva was one of them. Sajith Premadasa was said to have been incommunicable even by his close allies in the party for a few days. The first time the country was able to hear something from him after November 17 was when he issued a statement last week over the alleged abduction and questioning of a local staffer attached to the Swiss Embassy in Colombo over embassy activities.

It was said she had been questioned by the abductors about CID inspector Nishantha de Silva leaving for Switzerland days after former Defence Secretary Gotabaya Rajapaksa assumed presidency. Premadasa said the alleged incident left a black mark on the country's history of diplomacy.

UNP leader Ranil Wickremesinghe is also maintaining a relative silence following the presidential election, except for him expressing certain views on a fresh wrangling that cropped up between his faction and that of Premadasa over the opposition leader post and party leadership. Both factions have been and still are unable to realise that infighting had somewhat cost the party at the recently-concluded election and is waiting to cost at parliamentary elections too!

First, they failed to understand the writing had been on the wall nineteen months before the presidential election when results of the local government elections in February 2018 were announced. The SLPP swept the electorate at that election, bagging more than 230 out of 340 local councils whereas the UNP which had obtained 5 million votes at the last general elections in 2015 managed to muster only 3.5 million votes.

That was an erosion of one-third of its vote base within thirty months -- interestingly at a local election which normally does not turn tables on the ruling party. The presidential election outcome was only a reflection of that erosion of public support despite the party having started to recover during the presidential election campaign.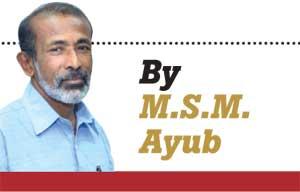 Events of political parties recovering from their defeats are not an abnormal phenomenon. Some of the recoveries had been amazing. For instance, the UNP which won only 8 out of 95 seats in the then Parliament at the 1956 election came to power in March 1960, though only for three months. Similarly, the Sri Lanka Freedom Party (SLFP) captured power in 1994 after a similar monumental defeat winning only 8 seats in a 168-seat Parliament in 1977.
Former President Mahinda Rajapaksa and his loyalists took only thirty months, as mentioned above, to bounce back last year. Yes, political fortunes have changed hands alternately since Independence. Now the UNP has to prepare for the next round of change, may be after several years.

Compared to local government elections held last year, the UNP has improved its vote base by the same number of votes as the SLPP received. Both parties have increased their vote base by two million votes each – UNP from 3.5 million to 5.5 million and SLPP from 4.9 million to 6.9 million. The two million vote swell of the SLPP included the majority of 1.5 million votes received by the SLFP last year, whereas TNA's 350,000 votes and a small number of SLFP votes could also have contributed to the UNP's improvement. Therefore, the number of new votes attracted, especially from the South by Sajith Premadasa at the presidential election, seems to be more than Gotabaya Rajapaksa's share of southern new votes. This point is good for frustrated UNP leaders to soothe their minds.

Yet, what might be disheartening the UNP is the gap between the votes received by the two main parties last year and this year. It had been 1.4 million votes at both occasions. The UNP had not been able to narrow it, though it had not widened either. In fact, since prospects of the SLPP seem to be better now, the gap might widen at the next parliamentary elections. It is only after that the UNP can expect any window of opportunity to strengthen itself. What the UNP might find out is the reason for unprecedented drastic erosion of its vote base during the three years before LG polls. The scandalous behaviour of many party leaders in respect of the Central Bank bond scam might have distanced a section of intelligentsia and the civil society from the party. The half-hearted campaign against corruption -- which was ultimately seen as another corruption too -- might have contributed to deteriorate the situation while creating rifts with President Maithripala Sirisena.

Although the UNP had strengthened democracy in the country, it had failed to keep the most attractive promises they had given to people at the last elections. People realised their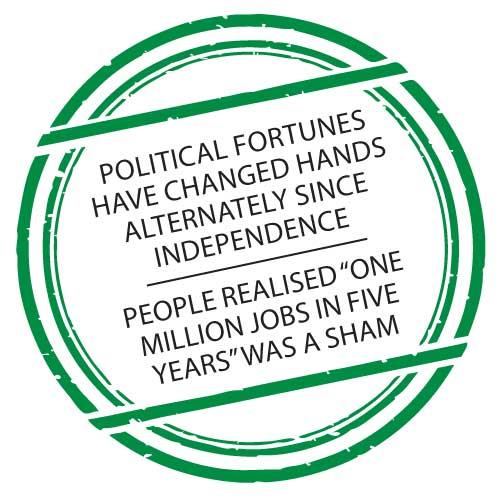 promise to create one million jobs in five years was a sham. Promises on the Volkswagen vehicle plant, tyre factory in Horana, tabs for youth and Wi-Fi facilities in public places became a laughing stock.
Most of these popular promises were targeted at the younger generation which is normally not attached to a particular political party and susceptible to change easily. And actually, they changed when they realised they were taken for a ride. These could be attributed to the unprecedented erosion of UNP vote base in 2018.
Nevertheless, political parties depend on failures of rivals to thrive, rather than their own success in respect of economic development and national reconciliation, which would be the case with the UNP as well in years to come. They have to wait for President Gotabaya Rajapaksa to fail, since they have no vision in the fields of economic development or national integration, as the case with the SLPP, to win over the masses.

President Gotabaya Rajapaksa has started his tenure with traditional popular austerity measures. Despite his party having claimed before the presidential election that national security had been compromised by the Maithri-Ranil Government, he is now travelling with only two back-up vehicles without closing roads for other vehicles. He had travelled with more than ten vehicles in his security detail at the end of the Rajapaksa regime. Also, contrary to claims by his loyalists that the economy was in shambles, he announced a series of tax concessions.

He ordered to replace pictures of government leaders in national institutions with the State emblem. Ministers were ordered not to appoint more than one consultant and people to top posts are to be appointed by a committee under the Presidential Secretariat. Rajapaksa announced after appointing the Cabinet that all employment opportunities must be pooled and distributed in a fair manner among all constituencies. He has not endorsed communal rhetoric of his supporters so far.

All these are fine, but one cannot expect the country to flourish with austerity measures alone. The government must find sustainable and ever-expanding revenue sources for the State and individual families. If it succeeds in this regard, the masses will win, otherwise, the UNP will win again at a future election.