---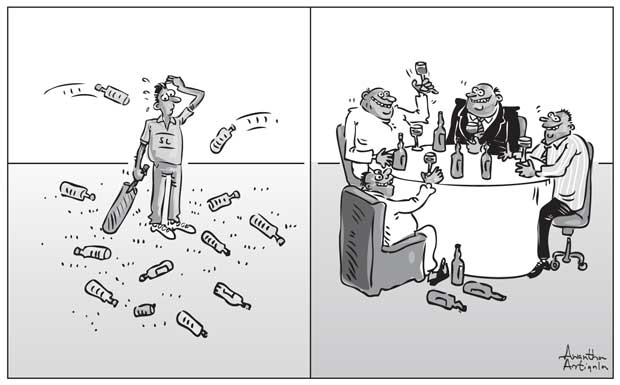 The recent unpleasant incidents the Sri Lankan cricketers experienced by way of hostile spectator reaction to a string of defeats, is indeed a sad situation. For a cricket crazy yet disciplined public, as opposed to their Indian counterparts, this is discouraging; so much so the World Cup winning captain and now Minister Arjuna Ranatunga made an appeal on media to the local cricket fans not to behave like the Indians.

Yet a keen observer would hardly be surprised, not by the spectator reaction per se, but the general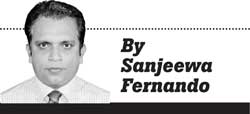 depths to which our cricket has sunk at present. Cricket is not our official national sport; yet no other sport enjoys the fan following it does, with an unparalleled international recognition as a team, to boot. Cricket fans consider the success or failure as a direct reflection of national pride. If there is one thing that brings all Sri Lankans together, that is Cricket.

Yet for some time, there has been something amiss with our cricket. From national players opting to play in foreign franchise cricket such as the IPL over playing for their country, to on-field and off conduct of some players, suggests that the standards were plummeting. The game once dubbed the 'Gentleman's Game' might not be so gentle any more; yet that should not be an excuse to be loose with the ethical conduct expected of players who represent the country at the highest level, becoming role models for all other citizens. But when one senior player told a young bowler to bowl a wide and concede victory to deny Virendra Shewag a century, I was disturbed as an avid cricket fan. As I always say, lack of self criticism is the greatest evil that afflicts our nation and when such conduct is tolerated, condoned and sometimes encouraged with a misconceived notion of patriotism or ape kama, it sends a wrong signal to the juniors. As it transpired, we had junior cricketers, peeing on the plane and going out for nocturnal escapades while on tour before matches.

Not being held accountable is not something peculiar to cricket or for that matter any national sport; it is in our nation's blood. When our athletes were accused of using banned substances for performance enhancement, the authorities , including the governing bodies of those sports pursued a policy of blindly denying charges. Although one expects the administration to stand for our national sports heroes, it need not throw objectivity entirely out of the window. The nett result is the deterrent effect timely disciplinary and penal measures would have, on both the particular player as well as others is lost and a bad precedent is created. Today our athletics - both track and field - is a far cry from what it was decades ago with names like Susanthika, Dharsha, Sugath and so many others.

The World cup win in 1996 catapulted Sri Lankan Cricket in to international limelight; yet it also signalled the involvement of multi-million dollar deals in terms of contracts, TV rights, tenders and so many perks for players as well as administrators. It invited individuals who looked at cricket as a lucrative business instead of a passion and a national treasure. Administrators of the calibre of the late Gamini Dissanayake are sadly absent today from cricket administration leaving it for greedy, narrow-minded, egoistic individuals who, for a while, seemed to ride the wave of success that the players had created by their toil.

We had well-oiled school and club tiers producing world beaters like Aravinda, Arjuna, Mahela and Murali; they could be blooded to the national team in their teens and yet could perform admirably at that level. The quality of the players both on and off the field was beyond reproach. Yet the money factor, factionalism in terms of school, club and personal contacts has led to the ruination of these domestic nurseries of talent and what is left is a mere skeleton of what it was. Politicisation as well as involvement of businessmen with murky genres of business which are organically harmful to sport, such as gambling have under cut the standards as well as quality of the game.

As much as local fans loathe the Australians when it comes to cricket, one can not, but be in awe at the way they manage their cricket. The Administration is done purely and exclusively by players of yesteryear who have played at the highest level. No businessmen, politicians or ill-motivated loafers at the helm. Disciplinary and penal aspects are governed by objective, matter of fact and universal standards which apply to all. They are relentless at play, objective and scientific in analysing their players and ruthless in disciplinary measures. The sum result? Five World Cups under their belt.
Commercialisation of sport is inevitable in the modern age; with commercially motivated franchised cricket not only the players at the top but even budding youngsters are influenced by so many negatives. Before a youngster learns to play a solid, technically correct forward defensive, cover drive or an off drive he is bombarded with Dil scoops,helicopter shots, reverse sweeps and all sorts of nonsense. The poor standards in Test cricket is an inevitable result of this and the West Indies and Sri Lanka seem to be the worst hit. India has benefited from the IPL to the detriment of countries like ours with star performers such as Malinga overused and exhausted when it comes to playing for the national team.

Physical fitness and a robust physique plays such an important part in modern day sport like it never did. Compare today's Tennis player with those 3 days ago. In cricket, too, gone are the days of Arjunas, Miandads and Graham Gooches with their bulky figures and protruding tummies. Australian and South African players, for example, resemble special forces military units more than sportsmen. Such is the emphasis on physical fitness. As the Sports Minister pointed out even our young cricketers are a far cry from it when compared to Axar Patels, Hardik Pandyas and K.L. Rahuls with supreme fitness and lean frames.

Any sport when played at international level needs a good sports literature and media coverage, which includes criticism. In my view, lack of timely and constructive criticism is a weakness that we have not been able to remedy up to date. Take the English cricket journalism for example; as much as they support their players, they nevertheless are the most sarcastic, ruthless critics of the players and administrators when it comes to comments. The criticism is taken by the players and administrators to their credit in the spirit it was meant and it keeps the sport on the right track.

One example will convince us that our approach to sports is anything but professional, objective or scientific. When Brian Lara was on the brink of his World Record Test score at stumps on the day, they had Jimmy Adams to stay in his hotel room to prevent media and well wishers from contacting him over the phone. Adams would give the phone to Lara if it was only immediate family members and not any other.

Replace Sanath Jayasuriya at stumps on fourth day in the first Test in August 1996 in Colombo against India, with the possibility of breaking that record the next morning. What do we have? Him being exposed to media in the evening, interviewed and questioned with all nonsense about the record, thus putting unnecessary pressure on the man, and the result... faltering at 340, whereas Lara went on to register the World Record Test score of an unbeaten 400!