---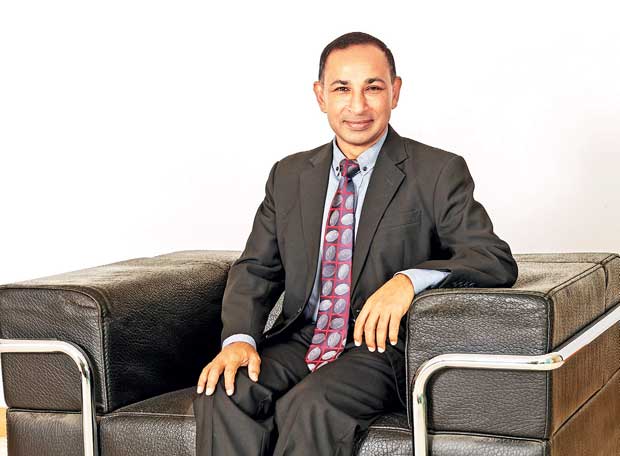 This is the 12th of the Mirror Business-Colombo Stock Exchange (CSE) interview series, featuring the top executives of the S&P SL20 companies. Here, Teejay Lanka PLC CEO/ Managing Director Sriyan De Silva Wijeyeratne talks about Teejay's performance, future plans and industry growth prospects.
What are the key milestones that Teejay has achieved so far in 2017?
The financial year FY16/17 has yet again seen many milestones when it comes to the Teejay journey. We moved into the S&P Top 20 Index in Sri Lanka, reiterating our strong growth over the past years, and we are overjoyed to be among the best locally. Forbes recognized us as one of Asia's 200 Best Under a Billion Dollars, which is a tremendous boost for the local industry. The Group, post its acquisitions, underwent rebranding as Teejay, bringing a common branding to all three group entities. We have seen a very challenging time for the industry due to high yarn prices, but Teejay has still outperformed most of the industry and peers, growing its topline by 24 percent, and still achieving a net profit of Rs. 2 billion during the year.

The launch of the world's first carbon neutral fabric was another big win for the Sri Lankan textile industry and for us. At the UK World Textile Awards, we won fame under the International Dyer and Finisher of the Year category for the third consecutive year (twice winners and once runner up). We bagged 7 awards including 6 Gold awards and 1 Silver at the National Business Excellence Awards, and on the Environmental side, were awarded Best Green Reporter of Tier 3 in 2016 by the Ministry of Mahaweli Development and Environment. Business Today also placed us among the Top 30 Companies in Sri Lanka. These are some of the many milestones we have journeyed through during the past financial year, so it has been pretty eventful.

While building on its original strengths, the company has set its sights on becoming one of the largest fabric manufacturers of South Asia. What growth initiatives can be expected
in this regard?

Our recent initiatives have pretty much moved us into this position already, and we have further growth aspirations as well. In Sri Lanka we embarked on the first commercial production of synthetic fabric, which addresses a severe vacuum which exists locally, since all players import almost their entire industry synthetic needs at preset.

The acquisition of a large state-of-the-art digital printing machine for Teejay Prints, creating new avenues for growth, which were hitherto untapped. In anticipation of GSP, we invested around US$ 15 million in doubling our capacity in Teejay India.

While part of it was completed during the last financial year, as of August 2017, we are almost done with the full expansion. These initiatives alone have the capacity to grow our revenues by a further one third. We have further plans to grow the synthetic footprint in Sri Lanka, enhance our printing capabilities and leverage capacity in India yet again at a later stage. So we are pretty bullish about the future. Our aspiration of building an entity which is around US$300 million in turnover by 2020 remains our roadmap, and so far we have been moving in a structured manner towards this. Having a cash-rich strong balance sheet enables us to invest in opportunities as we progress, as well as in modern technologies. These will keep us at the cutting-edge of our industry. We hope to invest strongly in people as well, as much of our success revolves around them.

In your opinion, what challenges do you anticipate in the Textile industry?
The recent past has seen major challenges in the form of raw material price hikes, predominantly caused by the spikes in cotton prices. Softer demand conditions in USA and Europe also prevailed for a while. We do see an easing up on all of the above though as of this moment.

In Sri Lanka, the higher energy costs continue to put added pressure on our Global competitiveness, as Retail prices move downwards and margins get challenges. Constant innovation is needed as a result, and some element of scale will help mitigate some of these trends. Our fairly high labour costs means we need to continually focus on the higher value added segments of our business. Policy inconsistency on tax and other financial aspects, also bring uncertainly into the longer term view which is needed for our kind of business.

Could you elaborate on how the industry could evolve to better serve the modern demands of fabric manufacturing?
The local industry lacks a certain critical mass of highly technical talent. Attracting such talent from overseas is not easy, and this is a vicious cycle, since investing into modern areas without the complementary talent is also not sound.

The industry will have to undergo modernization at a rapid pace, and needs to embrace technology a lot more. We are also just emerging as a strong force in terms of local supply chain, and global brands are now seeing us as strong options for innovation and as part of their supply chain solutions. But the degree of innovation is still lagging clearly compared to some of the other more innovative markets.
Focusing on the shareholder, what efforts and initiatives are you taking to drive shareholder value?
We renewed our focus on this aspect a few years ago. As a result, through our ambitions growth initiatives and the hard work of the entire team, our shareholders saw the value of the company almost triple during a short three year timeframe. We have also been very conscious about delivering back to investors, and our dividend policy has been extremely aggressive.

We also continue to keep shareholders and the investor community fully updated on our growth aspirations, while keeping our promises realistic and achievable. This formula has been quite successful for us, and we have also outperformed the ASPI and our Industry, when it comes to Investor returns.

How has listing on the CSE been beneficial to Teejay?
Going public was one of the best decisions we have made as a company, and today everyone has benefitted from it. Our original investors have been able to monetize their investments, while continually seeing appreciation even further.

The investor community have had an opportunity to benefit from the fruits of Sri Lanka's foray into the apparel industry, since almost that entire industry is privately held. The stock exchange has got much needed manufacturing diversity through our emergence, while many of our own employees are proud shareholders through ESOP schemes. We have also leveraged stocks as part of acquisition consideration, with good success. So, I would see this as a major boost for Sri Lanka
in total.

Finally, what is your message to the shareholders of Teejay and also touch on the investment case for the company?
I am indebted to our shareholders for the trust they place in us, and we hope to continue to keep them satisfied as we have done in the past few years. Our value proposition is extremely strong at present. With the advent of GSP Plus, we are already seeing the growing demand from customers, and we expect full order books in the near future.

Since we doubled our capacity in India, as that fabric is GSP eligible, we see huge potential for rapid growth. The timeline to react for growth in our industry is well over a year, and so, only those who predicted and bet early, stand to gain in the shorter term. Execution excellence will of course be key on our part.

Our fabrics are also being demanded into locations such as Kenya and Ethiopia, and we aspire to become a global exporter of fabric as well. With low Employee Turnover and a skilled workforce, we have confidence in expanding into adjacent technologies and products, which will diversify our Product portfolios. So we expect that Shareholders will continue to enjoy further rapid growth, and returns, and our PE multiples still have much room to grow. The fact that our overseas institutional investor base grew by over 50 percent during the last 15 months, underscores the untapped potential and upside opportunity through investing in Teejay. We humbly believe we remain one of the best investment prospects in the stock market at present.