---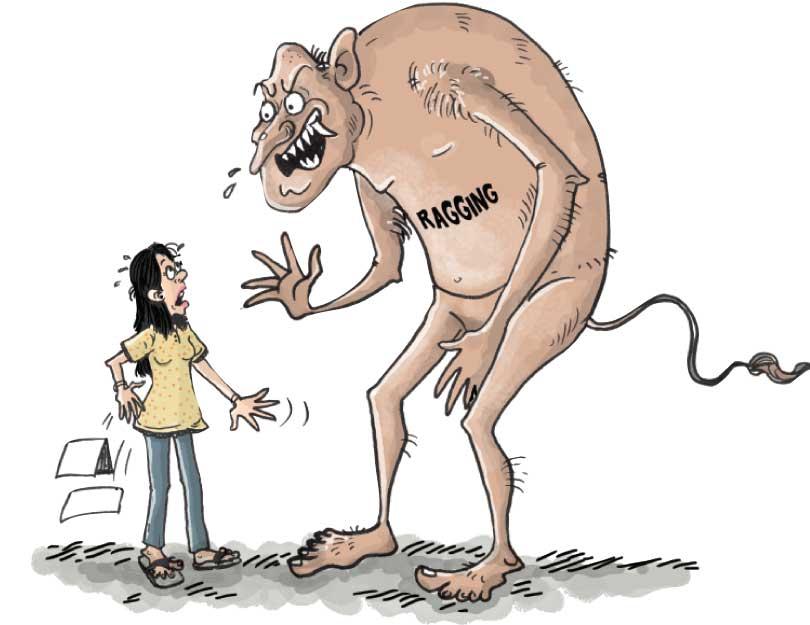 University administrations, the so-called students' unions in universities and the law enforcement authorities must be ashamed for their failure in stopping ragging in State universities and higher education institutions. The latest incident has been reported from the Kilinochchi campus of the Jaffna University where female students are said to have been sexually harassed in the guise of ragging. It has been alleged that seniors had forced some junior students to engage in acts of sexual nature and those acts were then recorded and published on social media.
The new Governor of the Northern Province, Ms. P. S. M. Charles, a respected administrative service official has ordered a thorough investigation into the incident according to which the campus has been declared out of bound for two male students. Later on Monday, following reports of the new students being threatened not to give evidence on the incident the university authorities have banned senior students from entering the campus.
Tamil newspapers said that one of the female students who had been a victim of this inhuman and uncivilized ragging had attempted to commit suicide while another newspaper last week reported two incidents of suicide in the same university earlier for the same reason. So many incidents of lives of fresh students having been claimed due to ragging had been reported from the universities and higher education institutions in the south as well earlier.
Yesterday, a newspaper had reported that around 2000 students had abandoned university education due to unbearable ragging in 2019. Earlier, former Higher Education ministers Wijeyadasa Rajapakshe and Rauff Hakeem had also revealed during their tenure that around 2000 students had left universities annually, due to ragging.
Meanwhile, the State owned newspapers on Monday had published an advertisement by the University Grants Commission (UGC) about a seven member committee of inquiry headed by a retired Supreme Court Judge for the purpose of recommending appropriate relief to victims of ragging who had discontinued their university education due to ragging and to propose suitable measures to prevent ragging. However, the UGC which had in that advertisement called for the details of the victims of ragging for providing relief had not called for suggestions by the public on prevention of this menace. The committee seems to propose measures to prevent this crime on its own.
It was amazing to note that those student unions that boast to appear for the free education and launch protests harassing hundreds of thousands of road users, even at the drop of a hat maintaining an eerie silence when it comes to ragging that deprive of the higher education opportunity for around 2000 students annually. And one has to imagine the reason or reasons for these incidents being reported only from State universities.
Recently a fee levying local university had published a TV advertisement which called on the students to pursue their education in an environment without ragging, demonstrations and boycotting of lectures. One has to imagine the ultimate results of violence and political activities in State universities and higher education institutions, in the light of such campaigns by the fee-levying higher education institutes.
There is no reason to believe that only those 2000 out of about 30,000 students enrolled to State universities annually are being subjected to this uncivilized torture before they abandon education at those universities. Then, should one believe that all these tens of thousands of incidents are taking place without the knowledge of the university administrations and the so-called student Unions? Should one believe that at least the members and the leaders of students unions who are among other fellow students day in and day out cannot identify the raggers? These questions point to where the responsibility and culpability lie.
Pictures of alleged culprits of the sexual harassment at the Kilinochchi campus had been posted on the social media possibly by the students of the same campus. This naming and shaming method is good and might serve the purpose of prevention of ragging, only if it is not used for personal vendetta.
Sri Lanka has a law (Prohibition of ragging and other forms of violence in educational institutions Act No. 20 of 1998) for the prevention of ragging. Surprisingly we have not heard of any student being penalized under that law despite many students having been arrested every year. All these suggest something being fishy in the whole system, which might be known to all stakeholders.