---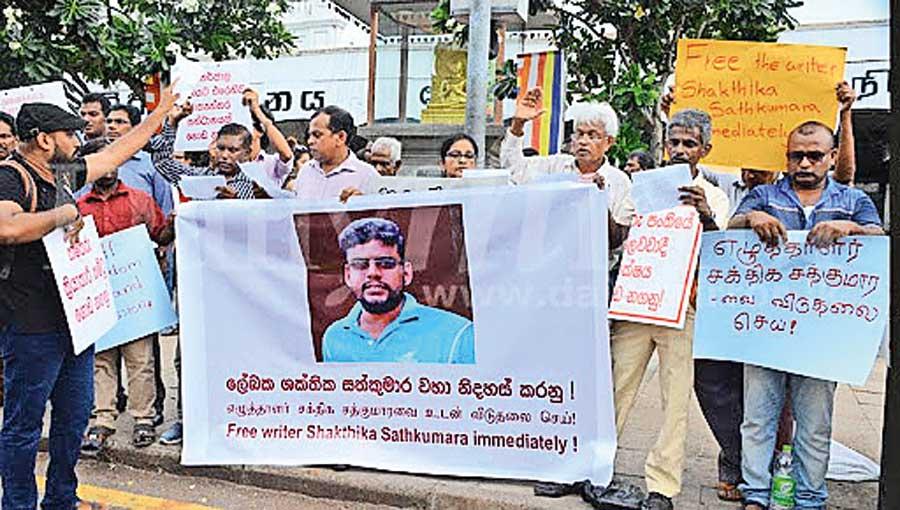 Protesters demand the release of Sathkumara
It is impossible to be truly artistic without the risk of offending someone somewhere."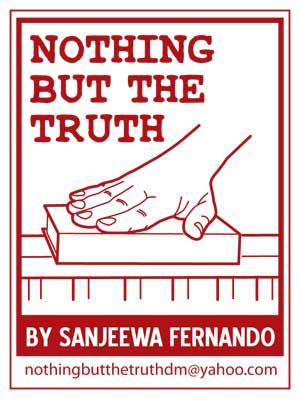 Wayne Gerard Trotman
Shakthika Sathkumara was acquitted and released by the Magistrate's Court of Polgahawela last week, as the Attorney General, at long last, informed court that the AG did not wish to pursue the case against the award-winning fiction writer who had been arrested in April 2019 under the ICCPR Act.

Shakthika was said to have violated Article 3 (1) of the International Covenant on Civil and Political Rights Act, No. 56 of 2007 ( ICCPR Act) based on 'a complaint' made by some monks who had alleged that the creative writer had incited religious hatred and defamed Buddhism by his short story ''Ardha'' (Half ). He was in remand custody for 130 days before getting bail from the High Court of Kurunegala in September 2019. The arrest took place during the time of the Yahapalana regime, which came to power guaranteeing all constitutional rights to citizens including that of freedom of speech.
Heat is on at the HRC
Immediately after he was arrested by the Polgahawela Police arbitrarily, unfairly and illegally on April 1, 2019, local and international media reported on the arrest and many national and international media and civil rights groups expressed their utter dismay over the arbitrary arrest and detention of the writer, urging his release. Yet it was with much effort that Shakthika's lawyers managed to even obtain bail. Many believe that the dropping of the case at this juncture as being one among many a last ditch effort the present government is scrambling to as a means of turning down the heat that is mounting with the Human Rights Council's meeting on Sri Lanka that is coming up in a few days' time.

Circumstances that led to the arrest in the first place were quite mind-boggling. Shakthika was a Development Officer to the Divisional Secretariat at Nikaweratiya and has won awards at the National Youth Awards as the best short story writer in the years 2010 and 2014. He has also won awards for his fiction writing at the North Western Province State Literary Festivals and published few books of fiction. He had published a short story in his Facebook page by the name of 'Ardhaya' which can be translated as 'Half' to English.
"Although Shakthika is now a free man, vindicated by law, the silencing of such right for expression is still there and in fact, getting more ominously widespread"
It was some members of the Sangha who had initially forced their way in to his work place and pressurized his superiors to take action against the writer, upon which the superiors, in clear contravention of the Establishment Code, which lays down the procedure that should be adopted when a misconduct is detected, proceeded to obtain statements from Shakthika when there was not an iota of an evidence to suggest misconduct. The short story thus published in his Facebook page was entirely a matter beyond the scope of his official work as a government servant.
Freedom of 'silencing' expression!
Thereafter, the monks pressurized the Polgahawela police to arrest Shakthika and produce him before the Polgahawela Magistrate under the ICCPR Act. The relevant Act does not empower the Magistrate to release a suspect produced under the Act and Shakthika was placed in remand custody. But as the police have produced him under Section 291 of the Penal code, as well, a bailable offence, Shakthika's lawyers had sought bail but to no avail. It was as a result that this writer, a father of two children, with no criminal record whatsoever and who peacefully exercised his right of freedom of expression, a constitutional right of every citizen, had to languish behind bars for more than four months, before obtaining bail after tireless efforts of his lawyers, who appeared pro bono.
Life in a 'fictional' temple
It is indeed ironic that an Act enacted to ensure civil and political rights of the citizens, has been used to muffle the right to express ideas peacefully and moreover, to criminalize those who exercise that right. The so called attack on Buddhism that the writer is alleged to have made is discussing the life in a Buddhist temple, in fiction form, which as the short story progresses, hints of sexual abuse of junior monks or 'samaneras' as they are commonly known, by chief priests or head monks in temples. This is an issue that has received attention of some child rights group and Shakthika was expressing his artistic opinion, in a piece of work of creative writing on this real, yet often, hushed up moral issue. The rise of the Sinhala Buddhist hegemonic thinking that has found expression in authoritarian control of anything to do with Buddhism, at least, as those noisy and vociferous 'protectors' understand it, has led to the persecution, prosecution, abuse, harassment and even assault of many who have expressed their mind either by symbol, opinion or artistic expression, their take on Buddhism.

A post on Amnesty International's web page during the time Shakthika Sathkumara was in remand read:
Shakthika Sathkumara, an award-winning Sri Lankan writer, was arrested on April 1, 2019, for writing a short story and sharing it on his Facebook profile. The fictional story he shared was about life in Buddhist temple that allegedly hinted at child sexual abuse. He faces up to 10 years in prison if found guilty as he is charged under Section 3(1) of ICCPR Act and Art. 291(B) of the Penal Code of Sri Lanka, which deals with propagating hatred and incitement of racial or religious violence. Detained for peacefully exercising his right to freedom of expression, Shakthika Sathkumara is a prisoner of conscience and must be immediately and unconditionally released and all charges against him dropped.
Due Process of the Law?
Finally and after much struggle, Shakthika was able to vindicate himself and his right to express artistically and peacefully, whether it is a religion, a philosophy, or a government that he was opining on. Moreover, what the buffoons who took up the mantle of 'protecting' Buddhism lack the capacity to grasp is, that Shakthika was writing a piece of fiction, a work of art.
Unfortunately, even the judicial mind which is supposed to uphold such liberties seems to have either been intellectually incapable of grasping this fundamental reality, or unable to stand up to the pressure mounted by some raucous monks who obviously do not have a clue what the real teachings of the Gautama Buddha says about the rights of a human being. Due process of the law, too, is a subjective thing, it seems!

Although Shakthika is now a free man, vindicated by law, the silencing of such right for expression is still there and in fact, getting more ominously widespread. The Fundamental Rights action filed by Shakthika will be heard in March by the Supreme Court and we await as to what happens to those who had harassed and incarcerated him without any legal reason. But we all know that Shakthika was not the first and certainly, as things are developing now, will not be the last.
But let this article be a tribute to Shakthika and all those who are brave enough to stand up to hegemonic bullying! Shakthika Sathkumara, as his very name suggests, is a very strong person and a noble prince!