---
Sri Lanka is making aggressive and sometimes scary attempts to promote this island as a tourist destination.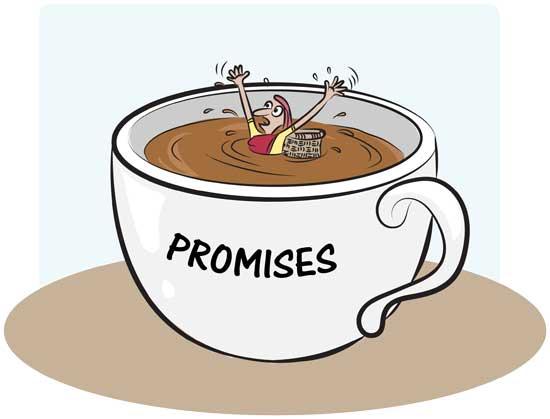 Among these plans we must surely have our tea products in mind. A steaming cup of tea to break journey is welcomed by both local and foreign tourists. But whether we'd enjoy the cup of tea if we came to know of the plight of the tea workers is a question we need to pose to
the authorities.

It's over a year since Gotabaya Rajapaksa pledged support to estate workers at a rally held Kotagala, Hatton, as a presidential candidate, that he'd increase the daily wage to Rs 1000 once he takes office. But right now the daily basic wage of the estate worker remains unchanged despite talks between trade unions and regional plantation companies.
It seems that plantation companies don't care much about election promises and politics. They are interested in profits and the least about worker welfare. Most plantation companies would want to see the wage of the plantation worker not grow; much like the tea bush itself.

But on the long run these companies acknowledge finding workers for plucking being a problem, but hold back on giving a better pay pack to workers at the end of the day. The reasons companies give for this is the present crisis that exists because of an oversupply of tea in the market due to the pandemic.
But unions maintain that tea companies are doing well and since the present tea price stands at Rs 629.94 a company can easily pay a daily wage of Rs 853. Workers at present earn a daily wage of Rs 800; without allowances.

What's amusing is that these companies, or some advertising firms making adds on 'Ceylon Tea' for them, use these pluckers in propaganda work. They use the strong point of estate workers-to able to smile in the face of adversity- to their
best advantage.
In this backdrop it's heartening to know that unions like the CWC (not forgetting the late Arumugan Thondaman), LJEWC and JPTUC are backing estate workers. They appose a basic daily wage of less than Rs 1000 for workers.

There were plans to make the basic salary of workers Rs 1025 which would include incentives from attendance, production and price share supplement. For the record a collective agreement signed between unions and regional plantation companies to ensure a basic wage of Rs 700 lapses in March 2021.
Plantation companies maintain that workers will have to raise their performance if they are be eligible to some of the allowances. For that they need to raise their daily plucking contribution which is at 18 kilos to 20 kilos.
Most estate workers are old and estates are experiencing a shortage of labour. The reason for this is that the youth in the estate sector are migrating to the city in search of more lucrative occupations. Even some elders employed in estates prefer jobs as manual labourers because the pay
is better.

Unions accuse plantation companies of only pursuing profits. They are even accused of not reinvesting in replantation. But these companies are hellbent on obtaining government subsidies and other benefits. If a company doesn't see it important to reinvest on replantation can workers depend on such paymasters to look after its staff?
Away from the frustration in the hills we get to hear that prices fetched at the Colombo Tea Auction are rosy. For the record the average price for tea in 2020 was Rs 641.66 in comparison to Rs 596.67 in 2019; calculations made in November of each year.

Last year the Cabinet approved a daily wage of Rs 1000 for a tea estate workers and Premier Mahinda Rajapaksa as Minister of Finance reiterated that when he read out the Budget
for 2021.
Stalled talks between unions and regional plantation companies were set to recommence on January 7. Let's hope that the estate workers' salary issue would be sorted out this year because that would certainly add value to the our tea cup!