---
"It's just a kiss away Kiss away, kiss away" - 'Gimme Shelter', The Rolling Stones
As in the fairy tale, a dramatic transformation occurred when Minister Mangala Samaraweera planted a smooch, on his successor Ravi Karunanayaka's cheek. Except that the transformation occurred in the kisser, Mr. Samaraweera.
A transformed Mr. Samaraweera seemed to see himself in the mirror as the President of Sri Lanka. In his first official event as Finance Minister at the Ceylon Chamber of Commerce late last month, he outlined sweeping changes which constituted a perspective for a drastic change of Sri Lanka. It was a macro change that no one has been mandated to implement and certainly has not been articulated by Sri Lanka's elected President.

Samaraweera delivered the keynote speech at the inauguration of the "Sri Lanka Investment & Business Conclave 2017: Growth through Partnerships", organized by the CCC. ('Mangala Maps Way Forward', Daily FT)

While he has been removed from the Foreign Ministry for the second time (the first being by President Sirisena's predecessor Mahinda Rajapaksa), Mangala thinks that what he has been appointed to do is to extend that which he did as Foreign Minister. As the Daily FT reported, he made his first speech as Finance Minister while "keeping a foot in his previous portfolio as Foreign Minister…"

The (patronizing) message issued from Ottawa on May 18 by Canadian Prime Minister Justin Trudeau, to mark the 8th anniversary of the end of Sri Lanka's war, revealed exactly what Mangala did as Foreign Minister:

"I reiterate my call to the Government of Sri Lanka to ensure that a process of accountability is established that will have the trust and confidence of the victims of this war. To this end, Sri Lanka should fulfill its international commitments by ensuring the involvement of Commonwealth and international investigators, prosecutors and judges." (My emphasis-DJ)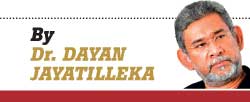 Now Mangala Samaraweera says that his work as Finance Minister will be on a continuum with his work as Foreign Minister and that both these are part of the same grand vision for Sri Lanka!
Mangala's speech repeats his lamentation about Sri Lanka's performance over the last 69 years. Samaraweera indicates that the country's development since Independence has been a failure and that he as Finance Minister will force through the new paradigm of Ranil Wickremesinghe that will change all that by—wait for it—Feb 4, 2018, the 70th anniversary of Independence:

"Samaraweera recalled the potential Sri Lanka had at Independence but expressed hope that the country still has the chance to turn things around and use its 70th Independence to chart a new beginning. The economic policy plan presented by Prime Minister Ranil Wickremesinghe last October was referred to as a blueprint the government would follow."
Mangala thinks his task as Finance Minister is to drive the Ranil-CBK project through in a policy coup d'état
Samaraweera announced, "…Sri Lanka's aspirations to become a regional hub for financial services for international trade" and that "the growth model Sri Lanka evolves would need to be private sector driven with exports and FDI as key pillars".

Who decided that Sri Lanka would give priority to converting itself into "a regional hub for financial services" i.e. aspire to emulate Singapore than Malaysia and South Korea? And has the SLFP faction within the government agreed to this growth model that would be "private sector-driven", rather than "state-driven" or "state-private" driven, as in the spectacularly successful East Asian model?


Has the President, who has been elected with the legitimate power to determine the blueprint which the government would follow, relinquished those duties to the PM, as in India and the UK? JR Jayewardene campaigned on the platform of an open economy and an executive presidential system and obtained a sweeping mandate for his model. Ranil Wickremesinghe has no such mandate and President Sirisena did not run for office on the Ranil economic blueprint.

Mangala thinks his task as Finance Minister is to drive the Ranil-CBK project through in a policy coup d'état. On May 29, 2017 the BBC asked, "Is Sri Lanka up for sale?" The Ranil-CBK-Mangala troika's answer to the BBC's question is "Hell, yes!"

The Finance Minister further proclaimed that "Without reconciliation and a stable foundation economic progress would once again evade our nation. In fact this is why a new Constitution in important..."
He elaborated in his remarks to the Mass Media Ministry which he has just assumed control of: "The Government has already started the process of giving executive powers to Parliament, said Samaraweera…" (Daily FT, June 3rd 2017)

The Samaraweera strategy is an unintended suicide bomb. A healthy business climate rests not on reckless policy reform but on sociopolitical stability, continuity and harmony. The attempt at a introducing a new Constitution will not only damage and destabilize a fragile coalition, but will also divert and divide the state apparatus itself (bureaucracy, judiciary, military). Above all it will necessitate a polarizing and convulsive Referendum -- all of which will gravely harm the business climate which the Finance Minister is duty-bound to protect and foster.

There is of course Ranil's Plan B -- namely to bring the abolition of the executive Presidency before Parliament as a separate amendment which does not require a referendum, and secure the votes of Basil-GL's "Pohottuwa". It will be a double-cross, a trap: (A) Gotabhaya will be eliminated from the running in 2019 by abolishing the executive presidency, while Mahinda, whose loyalist MPs will be used for the abolition, will be knocked out of 'the Premier stakes' in 2020 by briefly removing his civic rights by means of a war crimes or financial accountability trial.(B) The 'Pohottuwa' faction will be tapped by Ranil to secure the abolition of the Executive Presidency, while the 'official' SLFP will be leveraged by CBK to get the enhanced devolution package through Parliament.

The proposed abolition rejects/ignores the axiom of a former Finance Minister, JR Jayewardene, based on experience of the island's politics since the 1930s, that sustained high growth is impossible in our society within a Westminster model and requires an Executive outside/above Parliament. Even an Executive Prime Minister would not suffice.

As the powers of the Provincial Councils expand, and Prime Minister Wickremesinghe's MoU with India including ECTA opens the floodgates for the five Southern Indian states to enter our economy unimpeded, the abolition of the Executive Presidency and dissolution of the Presidency-economy nexus will devastate any prospects for stability and sustained growth and wreck any chance of an island-wide national development policy, a single island-wide division of labour and a single market.
The geopolitical reality is that the parliamentary model in this small island (where the minority parties will wield a de factoveto) cannot control autonomous provinces with a huge ethnic 'kin-state' across 18 miles of water and a behemoth of a subcontinent as neighbour. What India successfully does to keep itself united with the PM/parliamentary system and quasi-federalism, a little island dwarfed by its neighbour cannot do to keep itself together as a single sovereign state.

If the Executive Presidency falls, the Northern and Eastern Provinces rise quasi-federally and Indian monopoly capitalism swallows the Sri Lankan market and enterprises, so ending the possible future of Sri Lanka as a strong, modern, developed, sovereign country with a sense of independent nationhood and a proud, dignified, distinct people.