---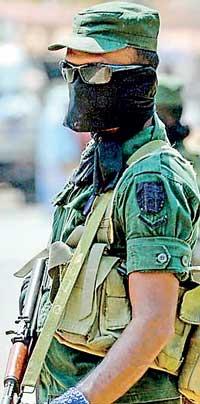 Health workers and the personnel of the three armed forces and the police who are engaged in fighting COVID-19 pandemic falling victims to the same disease is far serious than any other person catching the virus. They are the protectors of the people of the country at this juncture and it is unfortunate that around 180 navy personnel having contracted coronavirus by yesterday.

The pathetic side of the story is that they are said to have caught the deadly virus while on duty - during search operations to trace a large number of contact persons of a person from Ja-ela area who had already been tested positive for COVID-19. Unfortunately they seem to have mingled as usual with many other colleagues at their camp and some of them had gone home after taking leave, using vehicles driven by unknown people.

Consequently, 4000 navy personnel and their families in the Welisara Navy Camp had been directed to be quarantined and the Navy requested the public not to be scared about navy personnel on duty these days helping the healthcare authorities in their fight against the coronavirus. In a statement navy said on April 24: "Sri Lankan public do not have to be unnecessarily afraid of health related issues with regard to those who are working in the Navy. Steps have been taken to issue instructions to naval personnel to stay at home further who were already at home on leave, to restart all naval operations after conducting all required health testing and also to admit those who were infected with the virus at hospitals and treat them as necessary"

The Navy might have been prompted to issue this statement following a few dozens of navy personnel had been tested positive for COVID-19 as people tend to generalize a disease or an adverse effect among a few members of a community or a group or a village to the entire respective entity. In fact stigmatizing or discriminating against the navy by way of fear is unacceptable not because they are in the frontline in the battle against the coronavirus, but also because any group or community is prone to fall victims of the virus at any time.

However, stigmatizing or discriminating against various groups who have fallen victim of the pandemic, in genuine fear as well as due to prejudices has been a common worldwide phenomenon since the new member of the coronavirus family was first discovered in Wuhan city in China last December. It must be recalled even in Sri Lanka some media outlets roused racism when three household clusters of COVID-19 were reported from three localities where a particular community predominantly lives.

Interestingly, media reports relate stories of how people of Wuhan city was first looked down upon by those who live in other Chinese cities including those in the Hubei Province where Wuhan is situated. Later people in other provinces had shown their prejudices towards the people of Hubei when the province became the epicenter of new coronavirus. Then some groups in neighbouring countries such as South Korea joined the bandwagon to discriminate against all Chinese nationals in their countries and this trend soon spread to Europe where the disease was used by some groups as a racist weapon against Chinese nationals and Chinese descendants in their countries.

It must be recalled that a newspaper in Denmark had earned the wrath of Chinese government and the people in January after publishing a cartoon depicting the Chinese nation as viruses. China's embassy in Denmark had demanded an apology from daily Jyllands-Posten after it published a cartoon of the Chinese flag with its five yellow stars represented by coronavirus particles. By yesterday Denmark had reported over 8500 coronavirus cases and 422 resultant deaths. US President Donald Trump called the new coronavirus "Chinese virus' as if his country would be safer than China, but yesterday the US represented one thirds of total worldwide cases and more than one fourths of overall deaths in the world.

People fearing a person with a highly contagious and deadly disease is comprehensible. But the very rapidity of spread of COVID -19 demands prudence and patience on the part of every citizen. Disasters may befall any person or community or country and it is not an occasion for discrimination, especially at a time when a pandemic like this is invading the whole world.