---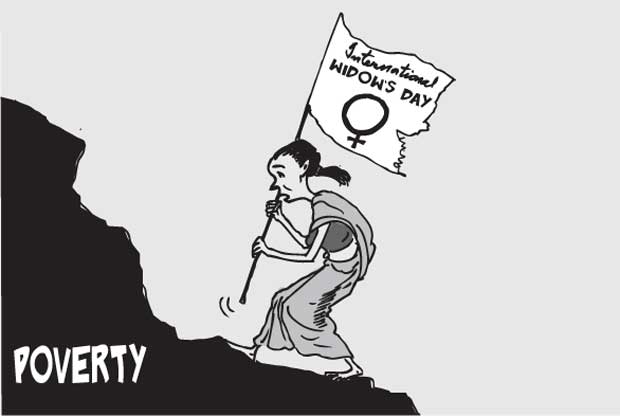 For thousands of years, widows have been among the most oppressed in society. But many religious leaders have made historic proclamations about the widow's mite, saying it is more valuable than all the wealth, gold and silver of the rich and ruling elite in society.
Significantly, the United Nations marked International Widow's Day yesterday, saying that, "Absent in statistics, unnoticed by researchers, neglected by national and local authorities and mostly overlooked by civil society organizations – the widow's situation is dramatic and in effect, invisible."
In a shocking revelation of gender inequality and injustice mainly for widows, the UN says, in many countries, once widowed women often confront a denial of inheritance and land rights, degrading and life-threatening mourning and burial rites and other forms of widow abuse.
In many countries, widowhood is stigmatized and seen as a source of shame. Widows are thought to be cursed in some cultures and are even associated with witchcraft. Such misconceptions can lead to widows being ostracized, abused and worse. Widow's children are often affected, both emotionally and economically. Widowed mothers, now supporting their families alone, are forced to withdraw children from school and to rely on their labour. Moreover, widows' daughters may suffer multiple deprivations, increasing their vulnerability to abuse, The UN says -- pointing out some social dimensions that most people are not even aware of.
Such cruelties are often seen as justified in terms of cultural or religious practice. Impunity for abuses of the rights of widows is rife, with few perpetrators ever successfully brought to justice. Even in countries where legal protection is more inclusive, widows can suffer social marginalization.

Suggesting some steps towards progress to give widows a better status, the UN says, International Widows Day is an opportunity for action towards achieving full rights and recognition for widows – too long invisible, uncounted and ignored. A dearth of reliable hard data remains one of the major obstacles to developing the policies and programmes to address the poverty, violence and discrimination suffered by widows. There is a need for more research and statistics categorised by marital status, sex and age to help reveal the incidence of widow abuse and illustrate the situation of widows.
Furthermore, Governments should take action to uphold their commitments to ensure the rights of widows as enshrined in international law, including the Convention on the Elimination of All Forms of Discrimination Against Women and the Convention on the Rights of the Child. Even when national laws exist to protect the rights of widows, what happens in many countries is that weaknesses in the judicial systems compromise how widows' rights are defended in practice and should be addressed. Lack of awareness and discrimination by judicial officials can cause widows to avoid turning to the justice system to seek reparations. The UN says, Programmes and policies for ending violence against widows and their children, poverty alleviation, education and other support to widows of all ages also need to be undertaken, including in the context of action plans to accelerate achievement of the Sustainable Development Goals.
In post-conflict situations, widows should be brought in to participate fully in peace building and reconciliation processes to ensure that they contribute to sustainable peace and security.

Empowering widows through access to adequate healthcare, education, decent work, full participation in decision-making and public life, and lives free of violence and abuse, would give them a chance to build a secure life after bereavement. Importantly, creating opportunities for widows can also help to protect their children and avoid the cycle of inter-generational poverty and deprivation, the UN says – stressing the positive aspects of how much widows could contribute. Last year the UN secretary general said there were some 259 million widows around the world, and nearly half were living in poverty.
In Sri Lanka, there is an additional crisis of the plight of war widows with the Northern Province alone known to be having some 90 thousand who are struggling for survival. In the South also are many war widows. The government and the society need to give special attention and facilities for them.